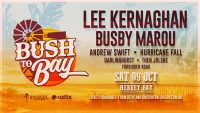 Calling all country music enthusiasts – It's time to swap the dust for sand and travel seaside for Bush To Bay 2021, making its return to the Fraser Coast on Saturday 9th October.
After postponement last year, organisers are excited to bring the one-day bush affair back to Bay Central Tavern in Hervey Bay, which previously hosted such acts as Sunny Cowgirls, Troy Kemp, The Pigs and The Buckleys.
This year they're back bigger than ever with outback icon and four-time ARIA award winning artist Lee Kernaghan leading the lineup. Click your heels and tap your boots as you sing along to top hits 'The Outback Club', 'Boys From The Bush', 'She's My Ute' and 'Australian Boy'. Ready to get crowds scootin' and groovin' are folk-rock two-piece outfit Busby Marou. With millions of global streams under their belts, top 20 airplay & four ARIA Charting albums, including a self-titled album that is certified ARIA Gold, the pair are known for their electrifying stage presence and intertwining vocal interplay.
Two-time golden guitar winner Andrew Swift will also jump on board, who has recently become a staple name in the Australian Country music scene, where his debut album Call Out For The Cavalry debuted at #1 on the ARIA Australian Country Charts. Travelling up north to perform will be Newcastle's own Hurricane Fall, bringing high energy performances, and an eclectic mix of country, rock, blues and pop, that draw inspiration from Brothers Osbourne to Garth Brooks to Eric Clapton. Darlinghurst and Then Jolene will also make appearances as well as a bunch of local acts.
The event expects to attract a large crowd of Australian Country Rock and Blues Roots fans and will run into the night from noon with plenty of food trucks to satisfy the appetites of all the country-lovin' folk, and music from some of Australia's most iconic artists.
Put the yee in your haw, dust off your best boots and get your tickets.