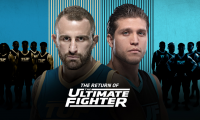 The Ultimate Fighter is back, and raise your hand if you're ready to see a new season of rookies? Do you have your hand raised? Good.
The Ultimate Fighter returns for it's 29th season, and after a slight break, it's back with a fresh batch of fighters ready to throw down.
What's so good about a reality fight show you may ask? First of all, the words 'reality fight show' should tell you all you need to know, but we'll give you a quick summary into the history of TUF.
Exploding onto the UFC scene in the early 2000s, TUF paved the path for some of the most well known and celebrated fighters you know today. Names like Forrest Griffin, Nate Diaz, Tony Ferguson and Kelvin Gastelum have emerged after being coached by the likes of Randy Couture, Chuck Liddell, Tito Oriz and Ken Shamrock. Some 28 seasons later, and a whole lot of knock outs later, we're here for the 29th year.
Now they hand the baton over to two new coaches..Australia's very own featherweight champion, and Official Home of UFC ambassador, Alexander Volkanovski. If you don't know who Volkanovski is then it's time to become acquainted. A certified champion after taking the belt from Max Holloway in 2019. And as for the opposing coach? None other than featherweight division stalwart Brian Ortega. The two fighters will each coach a team of rookies against each other and we'll see it play out week to week on our screens.
But we haven't even mentioned the best part yet.
The two coaches will meet each other in the ring at the conclusion of the series, where they'll go toe-to-toe for Volkanovski's featherweight belt, a fight that was cancelled originally due to the COVID-19 pandemic. A full season of built up tension playing out right in front of our eyes, it's the dream fight.
"It's friendly now, but I can't promise it'll be friendly by the end of it because I can already get that vibe that we're both competitive dudes," Volkanovski told UFC.com. "Both our teams want to win, and we're going to do whatever we can to win. At the end of the day, we all have a little bit of ego as well, so we're going to have something to prove as well.
You'll be able to catch Official Home of UFC ambassador, Volkanovski and The Ultimate Fighter in selected venues around Australia.
So there's just one more question… are you team Volkanovski? Or team Ortega?