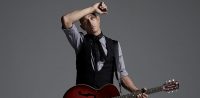 From the ripping sax solo in Johnny Diesel & The Injectors' debut single 'Don't Need Love' right through to his Ross Wilson co-write 'Six Steel Strings', Diesel tells us the story of his career through five songs. Words by Bryget Chrisfield.
About 10 years ago, Diesel (aka Mark Lizotte) used an "analogue" system for song requests. He'd ask fans to fill out forms at the merch desk, before collating them in his dressing room just before hitting the stage.
For his latest run of 'Tailored Set – Solo By Request' shows, which includes dates in Far North Queensland, he has a pre-show survey on his website that encourages fans to "think outside the box and go deeper" into his back catalogue. "Doing it electronically is much better," he says – even though some fans still prefer the old-fashioned way of hollering them out.
"It's like when you go to someone's house and they've just brought out a nice meal," he explains. "The table is set and you just go, 'Can I have ice cream?' It's like, 'Yes, it's coming! Just behave yourself,' you know?"
When asked whether he's had to relearn any deep cuts fans have requested for his previous 'Tailored Set – Solo By Request' shows, Diesel confesses, "I mean, there's a few lyrics I've had to go to the Internet for. It's always the second verse that I vague-out on. The first verse is muscle memory."
To help refresh your memories, we asked Diesel to select five essential tracks from his own vast back catalogue spanning three-plus decades.
Johnny Diesel & The Injectors – 'Don't Need Love' (1988)
Album: Johnny Diesel & The Injectors
"That was literally our first single," Diesel recalls, "we didn't put anything out before that. We did have a demo that was getting played on triple j and Triple M at the same time, though, which was pretty crazy."
Let's talk about this song's ripping sax solo by Bernie Bremond. "When it's right, it's right; otherwise it's sax crimes," Diesel says, laughing. "It's actually an alto [sax], which Bernie didn't have at the time. Terry Manning, the producer, had one in the cupboard and it was a bit like, 'Oh, can you play my instrument? I want to hear what it sounds like?' and it was also a bit like, 'It might be good for the song'."
Johnny Diesel – 'Tip Of My Tongue' (1992)
Album: Hepfidelity
Diesel ponders the appeal of one of his own timeless earworms: "I think it's a very inviting intro and then things slowly get thrown on the fire, log by log kind of thing. It builds up nicely."
We're tipping Diesel has played 'Tip Of My Tongue' at every single show since this hit single was released in 1992. "Almost," he admits. "I mean, there was one night where I didn't play it. It was totally by accident. I just got involved in other stuff and then the next thing you know I'm at the big crescendo in 'Cry In Shame', which I generally finish with.
"It was a great gig," he continues," and people were really happy and then somehow I left the stage and I was like, 'Oh, my god!' I realised I didn't play 'Tip Of My Tongue'! But no one seemed cheated or anything."
Diesel – 'Masterplan' (1993)
Album: The Lobbyist
Diesel's vocal chops have always been as dazzling as his guitar wizardry and 'Masterplan' is the perfect vehicle for showcasing his appealing, husky timbre. "It was a time where I was touring with Tina Turner and she was inspiring beyond words. I was trying to channel a bit of that into [Masterplan]," Diesel reveals. "She's one of my favourite singers."
Does Diesel also play sitar on this one? "It's an electric-guitar sitar – not the Indian version, the Ravi Shankar special – you just play it like an electric guitar, but it's got the sound of a sitar. It's got this little bridge that makes it buzz and it's basically that buzz that makes it sound the way it does. It's super-cool.
"It was used a lot on Motown songs back in the '60s," he continues, "they flipped out that electric sitar a lot just on little signature lines, like on Smokey Robinson songs … The most famous sitar solo is on that song 'Do It Again' by Steely Dan. It's a three-minute solo or something, it goes forever and it just rips! I mean, 'It Ain't Over 'Til It's Over' by Lenny Kravitz – that's electric sitar on there, one of the signature lines. It's a flavour that you can kind of use when it's right, but when it's not, it's like, 'Noooooo, don't even think about it!'"
Diesel – 'In Reverse' (2019)
Album: Sunset Suburbia (Vol. II)
'In Reverse' is a real mood. It's cinematic, atmospheric and quite the sonic shift for Diesel. "I guess it's the dovetail nature of the song that makes it sound so full, but a lot of that energy comes from the drum track," Diesel says. "I found this little My First Sony children's beatbox thing on the street, a children's toy from the '90s that someone was chucking away. It was in perfect condition and it still had batteries in it and everything. And it was working. So I brought it to the studio.
"It's got, like, beat pads on it and a tape deck that you can play along to or record yourself. And it's got these 2-bit drum sounds, really lo-fi, so I made a little loop and that happens in a sort of reverse fashion – excuse the pun – and then the live drums come in, opposite to what the kick and snare are doing, and that kind of gives it this inertia.
"There's also a squadron of EBows on there, which really fill up a lot of space. An EBow is like a magnet that you hover over the guitar string to make the strings resonate – without any attack, though, because you're not plucking. It just makes the string vibrate, so you've got this endless sustain and you can kind of move your hands up and down and change the notes and stuff."
Diesel – 'Six Steel Strings' (2021)
Album: Alone With Blues
'Six Steel Strings' is a Diesel/Ross Wilson co-write, written way back in 1991. "When we wrote that song, [Ross] came over to my house and I had a crappy little four-track set up on an ironing board with a couple of little computer speakers – just like a really shit home studio – and we wrote ['Six Steel Strings'] and made a pretty average-sounding demo," Diesel recalls.
Alone With Blues – out on July 16, 2021 – is an album of blues covers, but 'Six Steel Strings' seemed to fit. He describes its appearance on the album as serendipitous.
"I would've just made this blues record and been quite happy with what I had to put on it… Then I just happened to get this email, because Ross and his wife were doing a big move after they'd been living in the same place for a long time … That led to him going through all his storage tubs and he found [the Six Steel Strings demo], digitised it from a cassette, emailed it to me and before I'd even played it I saw the song title and I thought, 'This is perfect timing. I'm gonna put that song on the record.' I didn't even have to think about it. It's this perfect little blues number to put on the record … Serendipity."
Alone With Blues was created during lockdown with Diesel playing every single instrumental part. "Some people made sourdough bread, I made a blues record! Last year I literally dusted off stuff and got reacquainted with all my old friends – like, my cello and my double bass, my drum kit – and then plugged in a lot of gear that I hadn't used for a while and just made the most of my box of crayons, really."
Diesel – 'Tailored Set – Solo By Request' Shows
Allenstown Hotel, Rockhampton QLD
Wednesday, June 16
Click here for details
Harvey Road Tavern, Clinton QLD
Thursday, June 17
Click here for details
Bay Central Tavern
Friday, June 18
Click here for details