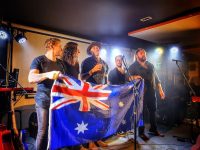 Bryget Chrisfield speaks to promoter Geoff Bell about the 'new wave' of Australian country music stars set to take over the world.
"It's a really strong scene. Country music's still doing what country music's always done in this country – created great artists – but now they're being seen," Geoff Bell, owner/manager of Goulburn-based Laing Entertainment and respected festival/country music promoter, tells us.
Back in the day, music fans outside the country scene "didn't want to admit they liked country music for fear of being called uncool", Geoff explains. "And that's why a lot of people will accept Americana, because it's virtually the same thing but they don't have to say they like country music – and that's where I get the giggles," he says, laughing.
But lately it seems like our recommended listening lists are bursting with exciting country stars in the making. Australia's country music scene is definitely flourishing, right?
"There's some wonderful acts out there, it's always been that way," Geoff explains. "It's interesting now that these acts are breaking into the city areas, which is good, and playing some non-country venues … There's acts out there that only two, three years ago were struggling and now they're selling out 500-seat venues! That, to me, shows that those barriers are coming down and that acceptance is starting to happen."
Over the years, Geoff has represented Australian country royalty including Slim Dusty, Kasey Chambers, Troy Cassar-Daly and James Blundell – as well as international acts such as Eric Bibb and Chris Cain – so we're understandably keen to pick his brain. From local heroes who are more famous abroad than they are here to emerging artists on the cusp of greatness, here are his acts to watch.
#1 Casey Barnes
"He's one of Michael Chugg's acts. Casey's doing great things."
#2 Kristy Cox
"Kristy Cox lives in Nashville and she's highly respected in the US bluegrass scene. She's won I think four or five Golden Guitars now … From what I hear, if you've got a Golden Guitar award they know what they are over the States, which is a good thing."
#3 Pete Denahy
"Pete Denahy used to play in Slim [Dusty]'s band, would you believe? He's a great fiddle player, plays guitar and he's won five Golden Guitars now. He's just a quality muso. A bluegrass act."
#4 Blake Dantier
"Cass Hopetoun's partner, a guy called Blake Dantier, is really worth checking out. I think he's got a big future, that kid."
#5 Jayne Denham
"Jane's had a career in the United States doing the trucking scene over there. So she would be flown to the States regularly to play at big truck shows. She was Golden Guitar-nominated back in 2014 for a song called 'Beyond These City Lights' that she released with Shannon Noll. She's been around for a while, but she's really starting to hit her straps now. Again, she works so hard and she's got a huge future."
#6 Cass Hopetoun
"She's got a big future. Very quirky. That current single 'Who Needs Hawaii' is great. She's already had a number one on the Music Network chart, last year ['Typical Bride' topped the Music Network Country Hot 50 airplay chart]."
#7 Hurricane Fall
"There's a band out of Tamworth-slash-Newcastle called Hurricane Fall doing really good things."
#8 The Sunny Cowgirls 
"There's a young act called The Sunny Cowgirls. I've been working with those kids since day one and they've sold in excess of 150,000 albums now, throughout their career. And they are sisters! They're taking a little break at the moment, they're having kids, but they're still doing music and they'll start working on a new record early next year; they're writing the songs now. The Sunny Cowgirls are smart, they're uncompromising, they just do what they do and people love what they do."
#9 Andrew Swift 
"Andrew's sort of alt.country. He's from inner-city Melbourne. The thing about some of these guys that are coming up on the scene is that they are not from where you expect a country act to come from: they don't come from the bush, they don't come from farms or a cattle station, they come from inner-city and they just love the style of music. And the underlying thing with all of them is that they really are prepared to work hard, and that's great. Andrew Swift, he's a hard worker."
Also look out for…
All Our Exes Live In Texas, Catherine Britt, Charlie Collins, Charm Of Finches, Darlinghurst, Davidson Brothers, Tori Forsyth, Georgia State Line, Freya Josephine Hollick, Fanny Lumsden and Melody Pool.