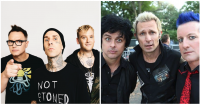 There are many similarities between Blink-182 and Green Day, both of which are chart-topping, top-selling pop-punk doyens who embodied teen angst while dealing catchy powerchords and bro humour.
The two bands actually joined forces for the co-headlining Pop Disaster tour in 2002 (as recorded in the Riding In Vans With Boys doco), Blink-182 regularly cite Green Day as a primary influence and it's clearly a mutual admiration society. But what if there could only be one gold medal recipient? Would it be awarded to Green Day – the band that brought snotcore to the mainstream – or those purposefully whiny, loveable dumbarses Blink-182?
Bryget Chrisfield dusts off her Discman and digs out an old pair striped fingerless gloves before developing a complex rubric to decide which band would snatch the '90s pop-punk crown.
Which band formed first?
Back in the summer of '92, Tom DeLonge met Mark Hoppus, they began jamming in a San Diego garage and Blink-182 were born. But Green Day beat them to it, forming in the San Francisco Bay Area of Berkeley a whole demi-decade earlier, in 1987.
WINNER: Green Day
Notable piercings (that we know about)
Blink-182: Mark Hoppus (nipple), Tom DeLonge (lip, ears) and Travis Barker (lip, nose, ears). 
Green Day: Billie Joe Armstrong (tongue, nose, ears), Tré Cool (nipple) and Mike Dirnt (ears). 
WINNER: Blink-182
Influences
Green Day: Ramones, Sex Pistols, Hüsker Dü, The Replacements, The Clash, The Dickies, Cheap Trick, The Kinks, The Who, Buzzcocks (although Mike has claimed he'd never even heard Buzzcocks when Green Day formed).
Blink-182: Ramones, Descendents, The Beatles, The Beach Boys, The Cure, Depeche Mode, Fugazi, Dinosaur Jr., Refused, Green Day.
WINNER: Blink-182
Signature song
Green Day – 'American Idiot' (2004)
Green Day's comeback song is their most widely recognised with the band further expanding their intergenerational fanbase thanks to the multiple Grammy and Tony award-winning musical adaptation of American Idiot. The band's 2004 single is just about as political as Green Day get, but although it was released during George W. Bush's presidential campaign, Billie Joe told a journalist, "I would never think of 'American Idiot' as being about the Bush administration specifically." During Storytellers, a VH1 TV series, an audience member asked Billie Joe whether he considered anyone who voted for Bush to be an "American idiot", to which he responded, "No, just a misinformed idiot". Billie Joe actually wrote 'American Idiot' directly after hearing Lynyrd Skynyrd's 'That's How I Like It' on the radio while he was driving, because he felt incensed by this celebratory redneck anthem.
Blink-182 – 'All The Small Things' (2000)
Tom wrote this self-described "really catchy and basic" song with his sights set on maximising radio airplay for Blink. "I put 'na na's in it, because I couldn't think of any words, you know?" he said during an interview. But the 'na na's – a genius tip of the hat to Ramones – also kinda make the song. 
In 1999, when the boy band craze was absolutely peaking, Blink-182's 'All The Small Things' video dropped and immediately dominated MTV. This music video – a parody of current (at the time) film clips by Backstreet Boys ('I Want It That Way', in particular), 98 Degrees, Britney Spears, *NSYNC and Christina Aguilera – stars Blink-182 attempting unison choreography and smouldering in a very exaggerated fashion, which is comedy gold. Bizarrely, this clip maximised Blink-182's crossover potential by appealing to fans of the very bands they were directly poking fun at.
Just try to hum 'All The Small Things' without visualising its award-winning film clip and chuckling like Beavis and Butt-Head.
WINNER: Blink-182 
Aesthetic
Blink-182: oversized skater-style threads, T-shirts over long-sleeved T-shirts, ankle-length shorts, sneakers and baseball caps.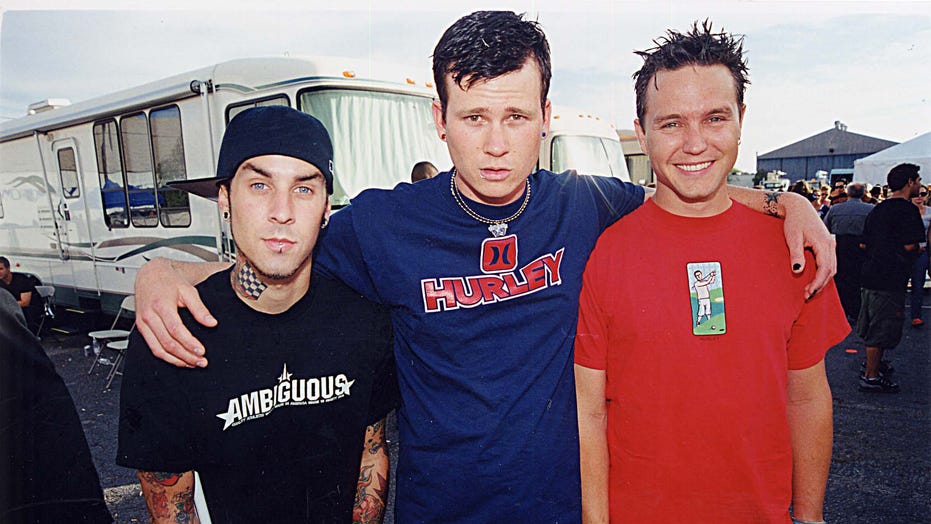 Green Day: often teamed corporate attire (crisp black dress shirts, skinny ties) with punk-flavoured accessories (studded belts, Converse, hair dyed and meticulously sculpted with an abundance of gel).  
WINNER: Green Day 
Number of lineup changes/disbandments
Blink-182: (3 members, 2 past members) 
When Blink-182's founding drummer Scott Raynor's family relocated to Reno, Nevada, he was briefly replaced by Mike Krull. But then the band saved up some cashola and began flying Scott out for shows until he eventually moved back (and in with Mark). After Scott was fired midway through a 1998 tour, he was replaced by Travis Barker (from Aquabats, who were touring with Blink at the time). Suffering from chronic back pain and wanting desperately to spend more time with his new family, Tom requested some time off from the band, which he was denied. So Tom left the band in 2005 and Blink announced an "indefinite hiatus".
Following Travis' horrific plane crash in 2008 (he was one of only two survivors and required 16 bouts of surgery), Blink-182 reunited in 2009. Then Tom parted ways with the band again in 2015 and was permanently replaced by Matt Skiba (Alkaline Trio's frontman).  
Green Day: (3 members, 4 past members)  
The first incarnation of Green Day, called Sweet Children, comprised Billie Joe, Mike and drummer Sean Hughes. There's some conflicting info about other drummers being in Green Day for a hot minute, but we'll just pick up from when John Kiffmeyer came on board in 1987, shall we? Shortly after Green Day's first nationwide tour in 1990, John left the East Bay area to go to college so The Lookouts' drummer Tré Cool stepped in. The band's 2012 album trilogy (¡Uno!, ¡Dos!, ¡Tré!) marked longtime touring guitarist Jason White's induction as Green Day's fourth member and his official-member status lasted until 2016.
WINNER: Green Day 
Number of studio albums
Blink-182: 8 
Green Day: 13
WINNER: Green Day 
Number of studio albums that topped the Australian charts
Blink-182: 0
Green Day: 3
WINNER: Green Day 
Number of Top 10 singles on the Australian charts
Blink-182: 1 (of 24 released).
Green Day: 5 (of 46 released).
WINNER: Green Day 
Number of album units shifted worldwide
Blink-182: Over 50 million. 
Green Day: Over 75 million. 
WINNER: Green Day 
Number of Grammys
Blink-182: 1 nom.
Green Day: 5 wins from 20 noms. 
WINNER: Green Day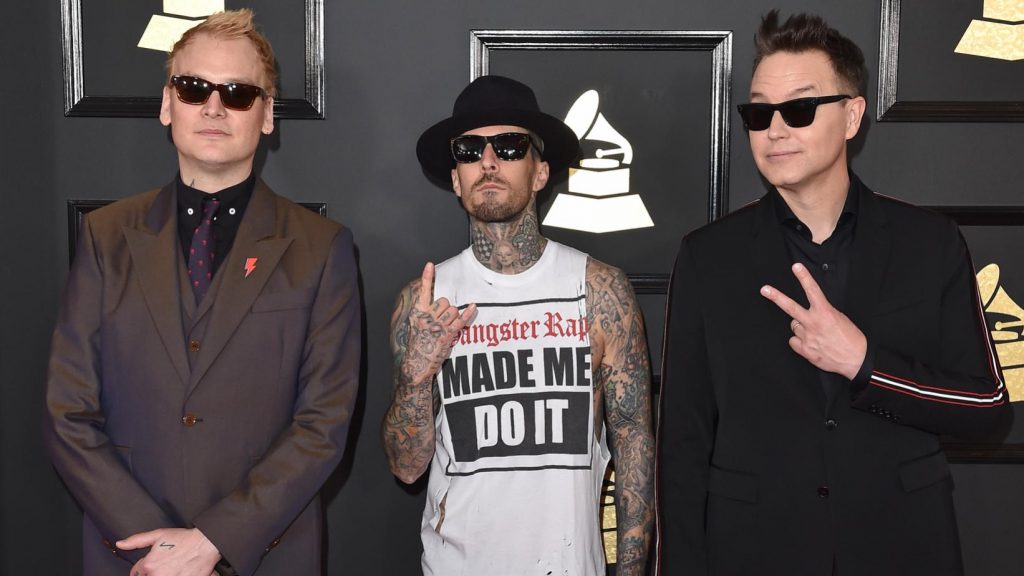 Amount of guyliner used per annum
Green Day: shitloads. 
Blink-182: not so much. 
WINNER: Green Day
Cameo appearances in film & TV
Blink-182: American Pie, The Simpsons and Idle Hands (Tom has a blink-and-you'll-miss-it cameo).
Green Day: King Of The Hill and The Simpsons Movie (at the band's request).
WINNER: Blink-182 
Most-streamed song (at the time of publication)
Blink-182: 'All The Small Things' (579,829,033)
Green Day: 'Basket Case' (572,543,482)
WINNER: Blink-182 
Memorable sync placements
Blink-182: 'All The Small Things' featured in Buffy The Vampire Slayer and the 2000 film, Charlie's Angels. 'Mutt' made the American Pie soundtrack and you might recognise 'Dammit (Growing Up)' from the teen flick Can't Hardly Wait. 
Green Day: 'Good Riddance (Time Of Your Life)' featured in ER and Seinfeld ("The Chronicle", for Seinfeld stans). 'Espionage' was synced to Austin Powers: The Spy Who Shagged Me and Green Day also contributed 'J.A.R. (Jason Andrew Relva)' to the Angus soundtrack.
WINNER: Draw 
Previous band names
Blink-182: Duck Tape, Figure 8 and Blink (to which the band added some meaningless digits after an Irish band called Blink threatened to sue their asses).
Green Day: Sweet Children.
WINNER: Blink-182 
Current status
Blink-182: The trio's last single release was 'Quarantine' (August, 2020), which was recorded without Matt (because he had no home recording equipment so was unable to contribute remotely). Blink are working on a new album, which will hopefully see the light of day in 2022. 
After undergoing chemotherapy treatment in secret for months, Mark recently confirmed he was cancer free!
Green Day: So far this year, Green Day have released two singles ('Here Comes the Shock' in February followed by 'Pollyanna' in May) and the band is currently touring Stateside as part of the Hella Mega Tour (with Fall Out Boy, Weezer and The Interrupters). 
WINNER: Green Day 
Deductions
Green Day:
#1 Before joining Green Day, Tré went to clown school.
#2 Weird Al Jankovic parodied 'American Idiot' (as 'Canadian Idiot').
Blink-182:
#1 Mark believes aliens exist.
#2 Travis and his wife, then-Miss USA Shanna Moakler's foray into reality TV: Meet The Barkers.
OVERALL VICTOR: Green Day*
*Not really, we kinda winged it, TBH, 'cause both bands are obviously so bloody awesome!