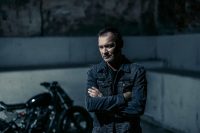 Adam Brand already counts three Platinum- and five Gold-certified albums, a Dancing With The Stars mirrorball trophy (he was crowned champion in 2009) and 12 Golden Guitars among his career highlights to date.
On the eve of his 16th album release, All Or Nothing, the celebrated Australian country star chats to BRYGET CHRISFIELD about fatherhood, moving out of the suburbs, what he's learned from his 102-year-old nanna, and creating a meaningful songwriting legacy. At the time of the interview, Brand's partner was 39-and-a-half weeks pregnant, with the pair preparing to welcome a second child.
Adam Brand will launch his new album All Or Nothing and play a greatest hits set at The Hallam Hotel in Melbourne on August 26. Tickets here.
(Photo by Glenn Hunt)
Becoming a dad updated his artistic purpose
"I've obviously been recording for a while – and writing songs and everything – so doing it from a perspective of being a dad: for myself, I think there's certainly a different view of what my music is here for, you know? What I'm here for… From my point of view, anyway, when you become a parent – I actually started thinking about my mortality and started thinking, 'What happens when I go?'… So you really start thinking about those subjects – or I have been – and it permeates into my outward expression, which is my music. The fact is, at this stage of my life – and it's not this stage of my career, it's more so this stage of my life – there are things I wanna say and things I wanna put out there, and that's more important than anything else."
Roadtrippin' while avoiding border closures
"[After Covid] first started in about February/March [2020] or something, I totally just thought, 'We could stay here in our little Gold Coast suburb, in the house, or we could just get out and feel freedom,' and, yeah! So that's what we did. In July, I packed my girls up – my partner and my little baby girl – we just headed off in a big old motorhome and went bush. We went for eight months and we kind of threaded the needle with all of the border closures and we managed to get through! We spent most of the time in WA but did a whole lap of Australia – back across the Nullarbor, went up the top, yeah!"
Building Casa Brand
"When we came home, I sold the little place – you know, just in a normal suburb – and we moved out of town and now I'm on seven-and-a-half acres. Again, for that same reason: I wanted to feel freedom and I wanted my family to feel that and not ever have to go through that feeling again of being locked in a box, you know? We're building a granny flat for Mum out here. But when that's finished, in about six weeks, Nanna is gonna come and stay for a month – with Mum – as well."
Back porch songwriting
"Homegrown Love was written right where I'm talking to you now, on the back porch of our home, and that's what happens! That's our home, pretty much everything [described in the lyrics] is true, you know? Like, today I've got a family of five in here, we're just about to have some lunch. I've got some people down the back working. My mum's down in the back caravan… So it's that kind of vibe. [The songs on All Or Nothing] are really just what we're going through at the moment."
The title track was inspired by Brand's centenarian Nanna
"The seed of [All Or Nothing] came from my Nanna. She's 102 years old and a wealth of experience and knowledge. She was born in Russia. And her dad – her family were royal family, not like the king or whatever it was, the tzar, but they were part of the royal family. They went through communism and the family got kicked out of Russia. I mean, can you imagine that someone living today has gone through all of that stuff?
"She was born in the World War I sorta time. And then going through World War II where she escaped Nazi Germany into Poland with her little two siblings. Milk and cream and all that sort of stuff came on carts, and there were no refrigerators. And then seeing all the major changes – all the world wars, obviously, but then there's the Berlin Wall and The Beatles and Elvis, and all those things were brand new in her time. And now she's got a Facebook page and she's got an iPhone! I get a text from her occasionally, no emojis yet. But she's seen the most change in human history. In one century, she's seen it all.
"The song All Or Nothing is about a man who is over 100 years old and he's about to pass on, and he's passing on some words of wisdom and all that kind of stuff. And that's where the chorus of All Or Nothing comes from: 'If it's a drinkin' song, make it a strong one/If it's a country road, make it a long one/Wanna wear cowboy boots, you'd better ride some/Wanna sing about a truck, get the miles done/To sing a heartbreak song, you gotta hurt some/Make the most of true love, you'll only get one/And stand up tall if you're gonna stand for somethin'/It mеans nothin' at all if it ain't all or nothin'."
Giving "the most un-single song on the album" a platform
"The next full single is the most un-single song on the album – out of all of them – which is When God Walks In The Room; that song just kills me, you know? And my discussion with my manager and the record company and everything was: 'Look, I know the song's too long, I know the song doesn't sound like [what traditionally gets played on] radio, but this song is probably one of the most important pieces of music I've ever done and, regardless of commercial success, I just want to give this song a platform so people get a chance to hear it, you know?… For me it's probably a pinnacle – musically, vocally – and the whole thing is just something I wanna share.
"[When God Walks In The Room] may not get streamed, it may not get played, it may not even chart and maybe no one will add it to radio and that's okay, because it's more about: I wanna give this song air and room to exist, not just be an album track that sort of gets overlooked. So I know I'm probably gonna go down, but I'll go down on my ship. It's alright. I had a good run [laughs]."
Curating 2018's compilation album, Milestones … 20 Years
"It certainly does make you look at your career as being like a book with a beginning and – not so much an ending, but where you are at the moment. 'Cause it's kinda like a diary in a way, you know? Each song or each album is an entry in your diary and you can look back at those albums and think, 'Oh, I remember that period of time, I was going a bit crazy,' or, 'That period of time I was heartbroken,' or, 'At that point in time I wasn't thinking about anything or anyone,' or whatever. So it is nice, from a personal point of view, to have that record."
Securing that first record deal
"I was living in Perth and I came over to Sydney, and had everything I owned in the back of an old Ford Falcon XF ute. I just landed and went and rented a little apartment in Marrickville and, yeah! That was it; kind of like a classic story. I had a little publishing deal – as a songwriter, just a development deal – and I went to a country music luncheon thing, and I was sat next to a guy called Warren, who was the CEO of Festival Records at the time, I think.
"And so I was just making small talk and he said, 'Who are you? Where are you from?' I said, 'My name's Adam. I come from Perth.' He said, 'Oh, you just here for the weekend?' I said, 'Nah, nah. I moved here.' And he said, 'Oh, why'd you move here for?' I said, 'Oh, I wanna be a singer.' He said, 'Really?'
"And after that meeting it was a year and a half later I had a gold album with them so, yeah! It really was amazing. In April [1997], I had a rejection letter from them, because I just went and handed in my demo tape and they sent me a letter back saying, 'No, we're not looking for any artists to sign, but best of luck'. They rejected me in April, and in September I went to that luncheon and a week later they sent through a letter offering me a contract. Then I had a deal with them, right?
"And the point I'm getting to is that Warren said to me, 'Look, one of the reasons I signed you is because anyone who's that committed – to move across from the other side of the country without a deal and come here, and put that much on the line – that's the kind of person I wanna be involved with."
Taking the primary school circuit by storm
"What I did for the first 12 months – before anyone knew of me, with a new album – I traveled around Australia doing free primary school shows, and just spreading the word and building from the ground up. So many times I've had people coming to shows over the years and saying, 'You came to my primary school. I was in Grade 3 at…' But now it's kind of different, you know? I mean, it's still work, but now it's just the social media world, obviously… I'm kind of glad I came up when I came up! You could fly under the radar a little more."
Reflecting on his 25-plus-year musical career
"It certainly feels like there's periods of the pedal's down and you're on a really steady climb and then there's periods where it feels stagnant and then there's periods where I feel like, 'Oh, we lost some ground there,' or whatever it is. But I guess certainly, as we all do, there's some times I think, 'Oh, man, what was I thinking? Why did I do that?' But, you know, I always come back to the fact that I feel like I'm where I'm meant to be. So in the twists and turns or the things that didn't work, or the things that I look back on and cringe about – they've all brought me to here and I'm happy where I am so they were probably necessary, you know? I needed to make those mistakes, I needed to look like a fool or whatever it was to get me to the point where I felt pretty settled and whole."
–
Adam Brand will launch his new album All Or Nothing and play a greatest hits set at The Hallam Hotel in Melbourne on August 26. Tickets here.