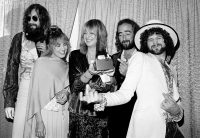 What does the 'Mac mean to you? Esteemed heritage act, just as famous for their drug use and scandalous intra-band love affairs as they are their spectacular back catalogue? One of the most enduring, best-selling bands of all time? Creators of a cool song to skateboard and lip sync along to while also drinking from a giant juice bottle? Something you order at McDonalds?
Whether you're a card-carrying member of the Fleetwood Mac fan club or have only just recently started exploring their output (perhaps after clocking Old Mate's viral TikTok featuring their smash hit Dreams), go ahead and test your knowledge of this legendary band by reading the 30 lesser-known facts below.
#1 Aussie rocker Billy Thorpe sometimes featured in – and wrote songs for – The Zoo, Mick Fleetwood's side project.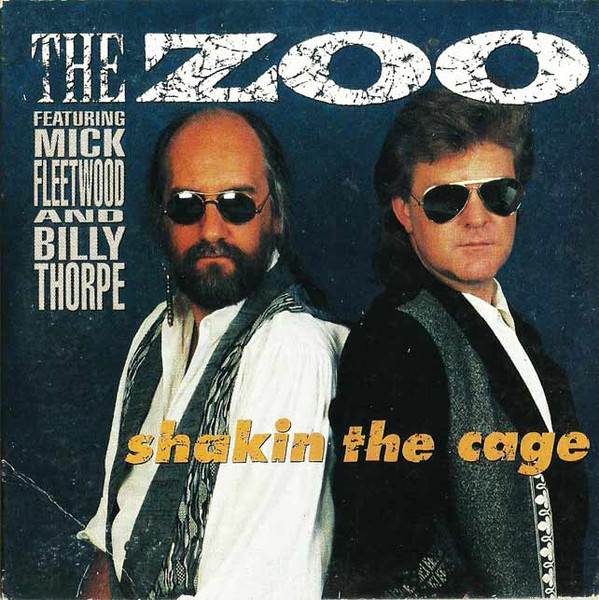 #2 Before Christine Perfect shacked up with bassist John McVie, and became Mrs McVie, she had a relationship with a German DJ who wanted to whisk her away and put a ring on it.
#3 Rod Stewart and Mick Fleetwood were briefly part of the same British group, Shotgun Express, in the mid-'60s. Fleetwood was the band's drummer when Stewart joined as singer. Fleetwood Mac co-founder Peter Green was also a member of Shotgun Express before they broke up.
#4 Black Magic Woman is a Santana song, right? Incorrect! It was originally a Fleetwood Mac song, written by Green and released as a single in the UK in 1968.
#5 Stevie Nicks snorted so much cocaine up her schnoz in the '70s and '80s that she burned a hole in her septum. She recalled her doctor's orders during an interview: "He said to me: 'The next toot you do could be your last. The tissue in your nose is very delicate. It could go straight up to your head, and then you could drop to the floor and die a lousy, two-hour death'." Fearing surgery would change the way she sang, Nicks chose not to have her nose fixed and has since estimated she would've spent US$1 million on cocaine while using.
#6 It's said that the 'Mac were doing so much coke during the making of Rumours that they considered thanking their drug dealer in the liner notes. In his memoir, 1990's Fleetwood: My Life And Adventures In Fleetwood Mac, Fleetwood revealed said drug dealer got killed before the record was finished, which is the only reason they didn't include his name in the acknowledgements. Fleetwood has also said the band hoovered up way more coke while creating 1987's Tango In The Night than they did during the Rumours sessions.
#7 After a stint in rehab, Nicks kicked her coke habit but still required follow-up psychiatric treatment. And then she ended up getting hooked on Klonopin, a powerful prescription tranquilliser.
#8 In 1971, one of the OG members of Fleetwood Mac, guitarist Jeremy Spencer, left his hotel to go buy a newspaper and never returned. Turns out he'd cut his hair, renounced all his possessions and joined the Children of God cult.
#9 After Spencer wore a giant phallus on stage, Fleetwood Mac were banned from The Marquee Club in London.
#10 Nicks has admitted of Lindsey Buckingham's Go Your Own Way lyrics (which he refused to take out despite her objections): "I very much resented him telling the world that 'packing up, shacking up' with different men was all I wanted to do. He knew it wasn't true. It was just an angry thing that he said. Every time those words would come out onstage, I wanted to go over and kill him. He knew it, so he really pushed my buttons through that. It was like, 'I'll make you suffer for leaving me.' And I did."
#11 Rumours, which sold over 10 million copies globally in its first month and topped the Billboard 200 for 31 non-consecutive weeks, has been in the UK charts for an astonishing 939 weeks – that's more than 18 years!
#12 John McVie suggested the album title Rumours in response to the amount of wild stories that were circulating about their intra-band affairs around this time.
#13 During the creation of Rumours, the McVies – still legally married – were separating and would only discuss musical matters, with Christine revealing during an interview: "We literally didn't talk, other than to say, 'What key is this song in?'"
#14 Rumours co-producer/engineer Ken Caillat has said of Christine's covert operations during the making of this album: "She'd sneak her new boyfriend [Fleetwood Mac's lighting director, Curry Grant] into the studio just as John was walking out through another door, and we were kinda ducking – 'When are the two chemicals going to mix? When are we going to have the explosion?'"
#15 Of the tension between Nicks and Buckingham during the Rumours recording sessions, Caillat recalled during an interview: "I remember them singing background vocals to You Make Loving Fun, sitting on two stools in front of a pair of microphones, directly facing me on the other side of the control room glass, and if we had to stop tape for whatever reason, during the few seconds that it was being rewound they'd be shouting and screaming at one another. I'd be thinking, 'Go tape, go tape, hurry, hurry, let's hit play!' It was painful."
#16 In the Rumours cover photo, snapped by Herbert Worthington, a pair of wooden balls – already a staple of his signature stage get-up – dangle between Fleetwood's legs. These were in fact toilet chains pinched from a club the 'Mac played during their formative years. "I must admit I had a couple of glasses of English ale, and came out of the toilet with these," he confessed during a 2009 interview. "I was very destructive – I ripped them off the toilet and had them hanging down between my legs." After his original balls were stolen (*irony not lost here*), Fleetwood enlisted a carpenter to whip up a replacement set, which he still wears for good luck during performances to this day.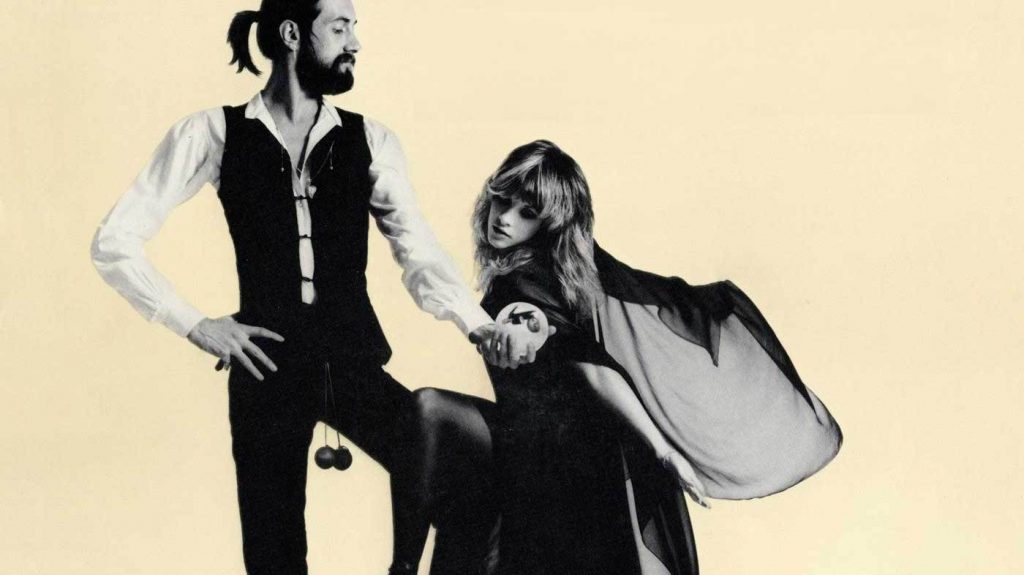 #17 Buckingham's love of Bee Gees' 1975 single Jive Talkin' informed the rhythm of Rumours' opening track, Second Hand News.
#18 In the States, at least one is every six households owns a copy of Rumours.
#19 The band's double album Tusk (1989), which was sold at a higher price point than a regular record, was considered a flop because it didn't sell in the same volumes as its predecessor, Rumours (even though it charted really well: #1 in the UK and NZ, #2 in Australia and #4 in the US, for example). The double LP was also played in full on the radio one day before it was released, which certainly can't have helped sales since tightarses would definitely have taped it off the radio rather than forking out their hard-earned. So Fleetwood Mac's 12th album did amazingly, all things considered.
#20 Despite leaving the band almost a decade before, Peter Green played eight notes on a Tusk album track: the airy, Christine McVie-penned Brown Eyes.
#21 During a 1980 interview, Nicks said working on Tusk was like "being held hostage in Iran with Lindsey as the Ayatollah".
#22 During the Tusk tour, Nicks requested a white grand piano in all of her hotel rooms. Not only that, she also specified the rooms should be repainted pink.
#23 The Chain (famously covered by Harry Styles in 2017, which turned a whole new generation of fans onto the 'Mac) was written by all five members of Fleetwood Mac: Nicks, Fleetwood, Buckingham and the McVies.
#24 Fleetwood, Nicks, Buckingham, Christine and John McVie – widely regarded as Fleetwood Mac's classic lineup – was actually the 10th version of this band.
#25 Guitarist Danny Kirwan was asked to leave Fleetwood Mac in 1972 after he flipped out while the band tuned up before a concert. The story goes that he ran into the bathroom, smashing his head against the wall before destroying his guitar then refusing to do the show.
#26 Nicks' 1981 chart-topping debut solo album Bella Donna was recorded in Bill Cosby's house.
#27 When Nathan Apodaca's TikTok video-selfie – featuring him cruising down a freeway on his skateboard while lip-syncing to Dreams and drinking from a very large bottle of Ocean Spray Cran-Raspberry juice – went viral, many virgin listeners Shazamed and streamed this Fleetwood Mac hit, which then re-entered the charts.
#28 After clocking Apodaca's contribution to TikTok, Fleetwood himself created his own TikTok account and uploaded an homage. Nicks also took to TikTok, singing the song she wrote 43 years prior while lacing up her roller skates. Surprisingly, Dreams is Fleetwood Mac's only chart-topping single in the States to date.
#29 Before touring Tango In The Night, Buckingham left the band and was replaced by two guitarists: Billy Burnette and Rick Vito.
#30 On Fleetwood Mac's single Tusk, which set a record for the most musicians featuring on a song, Buckingham is accredited with playing a Kleenex box while Fleetwood scored a credit for banging on lamb chops with a spatula. 
---
Words by Bryget Chrisfield