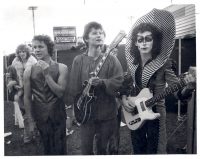 Trailblazing Melbourne glam/pop/art-rock band Skyhooks took a chokehold of the Australian music scene in the '70s and shook some much-needed life into it. Within this country's somewhat blokey, pub-rock landscape at the time, Skyhooks – with their colourful, theatrical personas (the band eventually employed their own costume maker!) – stood out like dog's balls. According to the band's guitarist Bob "Bongo" Starkie: "We came out of an era where there were all these boogie bands and everyone's got fuckin' long hair and they're standing around in jeans and smoking dope!"
Often mentioning local suburb names within their lyrics and song titles – Balwyn Calling, Toorak Cowboy, Carlton (Lygon Street Limbo) – Skyhooks represented Australian culture at a time when the charts were dominated by international artists. They were undoubtedly one of the most innovative Australian bands ever to have strutted, winked or (in Red Symons' case) glowered on stage.
Late to join the Skyhooks appreciation society? Never fear, we've got you covered! Become an instant expert by brushing up on your Skyhooks knowledge below:
The late, great Gudinski was their manager
"As soon as I saw them I had this instant flash. There was really something more than just another new band there," the late, great Michael Gudinski is quoted as saying of Skyhooks in Gudinski: The Godfather Of Australian Rock'n'Roll by Stuart Coupe. A week after Gudinski was first blown away by Skyhooks live, he signed them to his booking agency and later went on to manage the band.
Pre-Shirley Strahan, Skyhooks rocked Sunbury
Through Gudinski's booking agency, Skyhooks scored a slot on the third Sunbury festival (1974) back when Steve Hill was lead singer. The story goes that no one rocked up to watch Skyhooks' mid-afternoon Saturday set, the band's makeup melted under the hot sun and this searing heat also warped their guitars out of tune. Skyhooks eventually got booed (and bottled!) off stage. Glam-rock was regarded with suspicion by the Aussie blokes in attendance, which sure is shitty but also very indicative of the intolerant era that birthed Skyhooks.
Fun fact: Hill left Skyhooks after their aforementioned disastrous Sunbury appearance, moved to Perth and later became the band's roadie.
Skyhooks as agitators
Skyhooks formed in the post-Menzies era and guitarist Bob "Bongo" Starkie points out, "It was this time when the politicians could send an 18-year-old kid to war! So it ended up when we came out of school and into university and what have you there were people rebelling. We had to stand up for our rights… And so [Skyhooks] was a part of that. We were this cynical look at society and we came out firing on all cylinders!"
Ross Wilson nearly fronted Skyhooks
For a hot second, Daddy Cool's Ross Wilson thought about joining Skyhooks. But Greg Macainsh, the band's primary songwriter/bassist, had other ideas and introduced Gudinski to Graeme "Shirley" Strachan. On first meeting, Gudinski recalls Shirley was a "really straight, quiet, meek guy" – huh? Gudinski also reflected, "I don't think that they would ever have had the commercial success with Steve Hill as a singer."
Skyhooks' debut album was produced by Wilson
A year after their first gig, Skyhooks signed with Mushroom Records and Wilson cajoled the band into letting him produce their debut record. Living In The 70's (resplendent with greengrocer's apostrophe) cost $13,000 to record, which was bloody heaps back then. But this investment definitely paid off! Living In The 70's broke all records for an Australian album, selling an unprecedented 226,000 copies, topping the charts for a colossal 16 weeks and remaining in the album charts for over a year!
Horror Movie activated Skyhooks' cyclonic rise
Living In The 70's wasn't initially embraced by all, with one reviewer roasting, "To listen to Skyhooks bite their way through Living In The 70's is to justify the existence of Valium." But from the release of their second single Horror Movie, in January 1975, Skyhooks were unstoppable. Of Horror Movie – the band's first number one single – Gudinski recalled, "I think one week it went from [number] 34 to six on the chart… When it moves like that, it's the real thing. It just all happened so fast."
"It's like someone lit a fuse and for two years it just went off like a firecracker," Starkie has said of Skyhooks' rapid rise from 1973 to '74. Then soon after Cyclone Tracy devastated Darwin on Christmas Day in 1974, the band was allegedly nicknamed 'Cyclone Skyhooks'.
Mushroom Records is synonymous with Skyhooks
Gudinski's Mushroom Records established itself in 1974 with the release of Living In The 70's, which went on to become the biggest-selling album by an Australian act to date in this country and was added to the National Film & Sound Archive of Australia's Sounds Of Australia registry in 2011.
In his aforementioned Gudinski biography, Coupe notes: "Skyhooks was the band whose recording budgets almost destroyed Mushroom Records before it had really got started – and then ultimately saved it."
Skyhooks were made for Countdown
Countdown was one of the first Australian TV shows to be produced entirely in colour and Skyhooks were the first live band to feature on the show. "We could play our music into lounge rooms right around the nation every Sunday night!" Starkie marvelled of the advent of Countdown. "It just made our music explode. We didn't expect it, it just kind of happened, and we were ready and primed for it." No one could dispute Skyhooks wouldn't have been so gargantuan, Australia-wide, were it not for Molly Meldrum's ripper ABC TV show.
Risqué lyrics were the norm for Skyhooks
Who could forget the risqué lyrics Skyhooks delivered on the reg!? Case in point: "She rides a bike like she rides a man/ Just hold on tight and don't give a damn/ Slip the clutch and gimme full throttle/ Open your legs pass another bottle" – their song Motorcycle Bitch is 100% filth!
Also, You Just Like Me ('Cos I'm Good In Bed) sees cheeky 'Shirl The Curl' relishing in delivering this song's chorus – which repeats, "You just like me 'cos I'm good in bed," a grand total of 22 times! – while experimenting with different phrasing throughout.
And how's this for an opening line? "Slip into a cinema and give yourself a treat/ Better take a raincoat could be sticky on the seat" – the Red Symons-penned Smut is Adults Only cabaret!
Six tracks from the band's debut album were banned on commercial radio
Six tracks from Living In The 70's (resplendent with greengrocer's apostrophe) were banned on commercial radio in Australia. But Gudinski saw great value in this censorship in terms of free publicity: "When all the songs got banned I thought, 'This is fantastic. If they want the record, they're gonna have to buy it; they're not gonna hear it all over the radio'."
2JJ kicked off their first-ever broadcast with Skyhooks
When Sydney's 2JJ (triple j's predecessor) began broadcasting in January 1975, the first-ever song they played was Skyhooks' You Just Like Me ('Cos I'm Good In Bed).
A female singer fronts Starkie's Skyhooks tribute band
Bongo Starkie formed a Skyhooks tribute band called Million Dollar Riff and once revealed during an interview, "I use a girl singer, because I've yet to find a guy who could come close to Shirl's amazing vocal range… He was a freak. Shirl had an awesome personality and was a terrific bloke. He was a natural singer, with perfect pitch; he could just do it. Half the time he didn't know what he was singing about but it didn't seem to matter [laughs]. It's really hard to find someone who can sing and have the same sort of larrikin spirit of Shirl. He was just a natural on stage. You never knew what was going to come out of his mouth. He was the key to the audience. All we did was back him up – he was the glue."
Shirl tragically died in a helicopter crash
Skyhooks' lead singer tragically died in a self-piloted helicopter crash in Noosa back in 2001. After obtaining his helicopter pilot's licence, he had hoped to buy his own helicopter to take friends and family on surfing safaris.
Skyhooks – Bob 'Bongo' Starkie Show
Friday, November 11
Matthew Flinders Hotel, Chadstone VIC
Tickets here
Friday, December 2
Burvale Hotel, Nunawading VIC
Tickets here