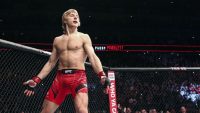 If you're like us, you've been seeing a man with a blonde bowl cut everywhere on the internet. He's got a recognisable English accent, and an authenticity that can't be matched.
Who is this person, why have we been seeing him everywhere and what has he got to do with the UFC?We've taken a deep dive into the internet's new favourite fighter, Paddy Pimblett ahead of UFC 282 on Sunday 11 December where Paddy will take on Jared Gordon in the undercard. Let me just tell you, it's hard not to jump on board the Pimblett bandwagon.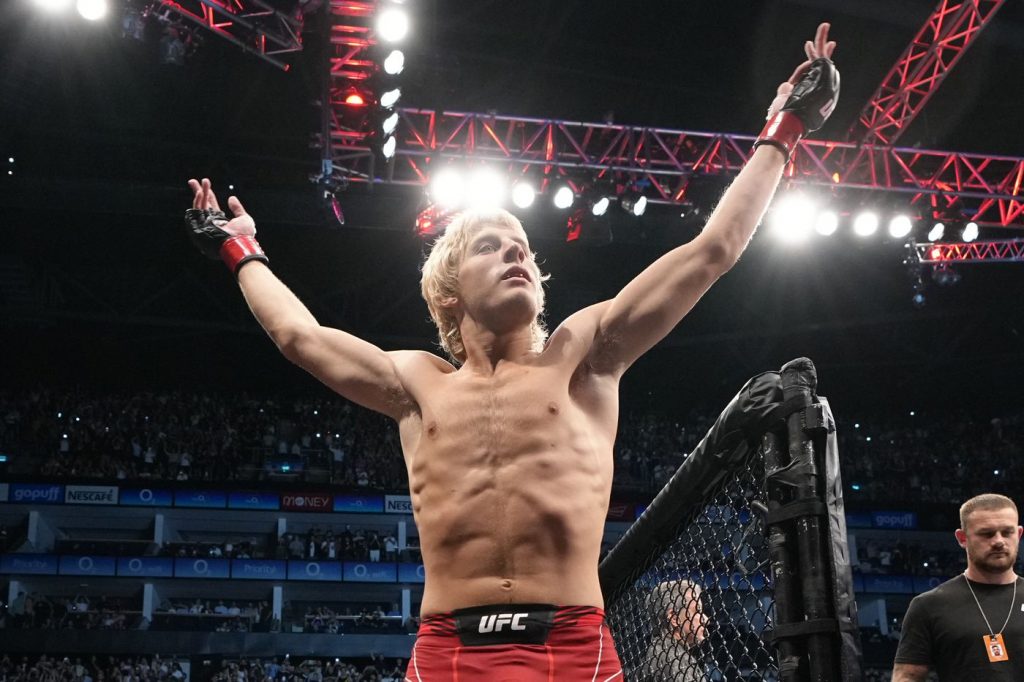 WHO IS PADDY PIMBLETT?
Born in 1995 in Huyton, Merseyside in England, It's Pimblett's connection to where he grew up, and the way he grew up, that has acquired him so many fans. Keeping it real at all times (maybe sometimes a bit too real), Pimblett has never been shy about the way he was raised, or the challenges his family faced.
At just 14 years old, Pimblett showed a keen interest in mixed martial arts watching Vitor Belfort and Rich Franklin at UFC 103 then swiftly joining Liverpool's Next Generation MMA. It wasn't long until he discovered a love for the sport, deciding to pursue a career. Just quietly, we think it turned out ok for him.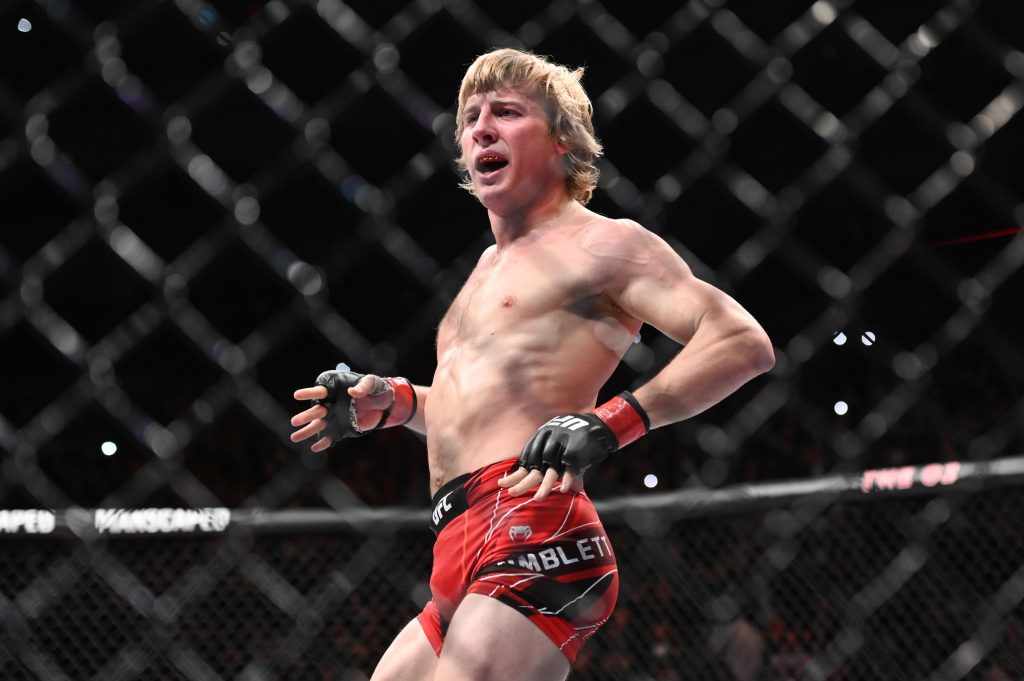 THE CAGE WARRIOR ERA
At 17, Pimblett made his fight debut in the bantamweight division against Nathan Thompson. Pimblett won the fight with a submission in the first round, and the Paddy Train started rolling.
He went on to win his second fight against Dougie Scott at Cage Contender. His third fight was against Jack Drabble where Pimblett won with a KO in just 21 seconds. The Drabble fight was an announcement to the industry, and everyone watching, Paddy Pimblett was here, and he wasn't going anywhere. The blonde hair swishing around the Octagon after the win will stay etched in our brains for years to come.
With a 3-0 record, Pimblett signed with Cage Warriors and quickly went on to claim the Cage Warriors featherweight championship in 2016. After a successful title defence, he suffered his first loss in 2017 at the hands of Nad Narimani.
Pimblett stayed with Cage Warriors for another four years, moving up a weight class to lightweight and challenging for a belt or two with mixed results. In 2021, it was time for the next chapter, Pimblett was off to the UFC.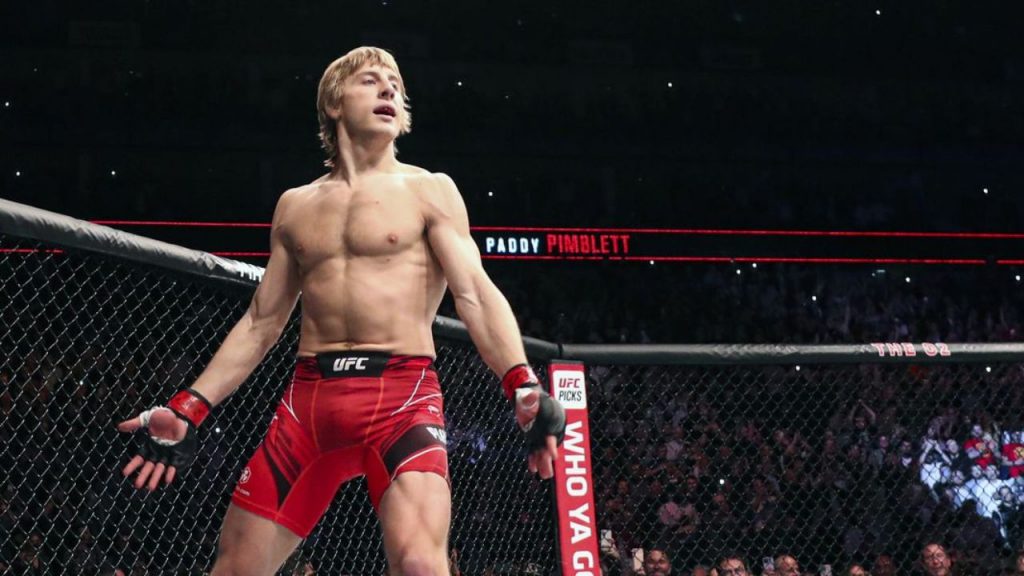 PADDY PIMBLETT AND THE UFC
Pimblett made his UFC debut on September 4th 2021 against Luigi Vendramini. Off to a stellar start, he won the fight by knockout in round one, just four minutes and 25 seconds into the bout and topped it off with 'Performance of the Night'.
Pimbletts second fight saw him take on Rodrigo Vargas, win by submission and take home his second 'Performance of the Night'. Pimblett was quickly collecting an allegiance of fans including UFC President, Dana White, who called it "the biggest UFC fight night in UFC history".
Most recently Pimblett fought against Jordan Leavitt in July 2022, earning him a third consecutive win and 'Performance of the Night'… again. A theme emerged, when Paddy Pimblett was in the Octagon, you were in for a show.
With a current fight record of 19-3-0, Pimblett is on the way to becoming one of the most recognizable and successful UFC fighters today. His next fight will take place on Sunday 11 December at UFC 282, against Jaren Gordon in an undercard to Jan Blachowicz vs Magomed Ankalaev. Excuse us while we daydream about how good it will be to watch Pimblett in action, live at the local pub? We can't wait.
If he takes the win, many are wondering if he'll be on the track towards a title fight some time in 2023. If Dana is reading, that's something we're dying to see.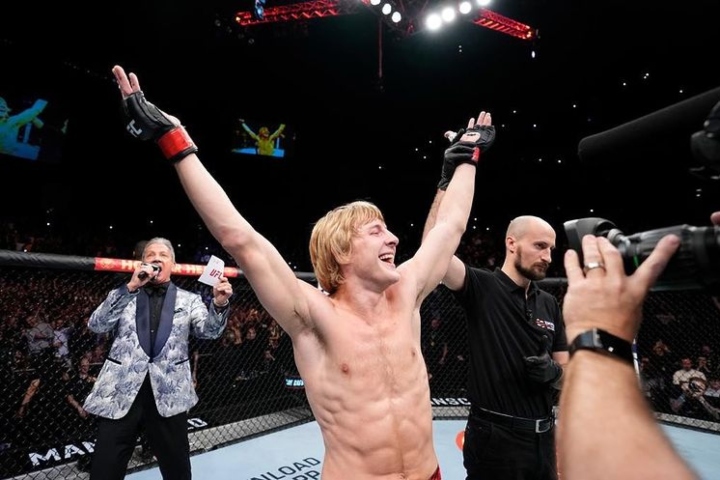 SO WHY DO PEOPLE LOVE HIM SO MUCH?
Familiar with an ex-champion by the name of Conor McGregor? Some are tipping Paddy Pimblett to become as big and as popular as the Irishman.
While he's yet to earn an official ranking in the divisions top 15, and the financial success McGregor collected, he has endeared himself to fight fans around the world with his colourful personality, brash swagger and most of all, the recognizable haircut (we told you we had seen it everywhere).
Although his authenticity outside of the Octagon has earned him loyal fans, it's his ultimate success inside that reinforces that loyalty. Whether it's with a strike, a kick or a dangerous submission grappling, Pimblett always seeks to finish his fights with a bang. In both of the UFC's recent London events, no fighter generated as loud of a cheer as Pimblett, who seemed as surprised about the love he was receiving as anyone.
THE MISSING PIECE IN PADDY PIMBLETT'S POPULARITY
All of those things are all well and good, we hear you saying, most popular athletes have those attributes. But why has Pimblett's fan base grown so dramatically in such a short period of time?
The answer is simple, there isn't anyone else like Paddy Pimblett. Not afraid to stand out from the crowd, the unusual aura surrounding this athlete is something many haven't seen in the UFC or any sport in a long time. A comical jokester, Pimblett has been described as a breath of fresh air in an industry that was built on aggression, focus and never letting anyone see you sweat.
Now that we have an understanding of the man from Merseyside, we can't help but call ourselves Pimblett fans too. You'll be able to catch your new favourite UFC fighter (or our new favourite at least) in UFC 282 Sunday 11 December. A chance to watch Pimblett in action, live at the pub? We'll see you there.
Where can I watch UFC 282 near me? Find your Official Home of UFC location right here.
Find out what other UFC fights are coming here.