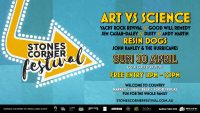 Brisbane's must-attend, free, inner-city festival is back in 2023 to unleash a day of epic music, food, crafts and market stalls on the local community! Come Sunday, April 30, Stones Corner Festival returns for its eighth year with an epic lineup of Aussie artists that's sure to have locals dancing in the street.
Headlining the festival in 2023 is Australian dance-punk, electro-pop group, Art vs Science who are best known for their hits Flippers, Magic Fountain and Parlez Vous Francais. The trio will be joined by other highly sought-after artists such as Resin Dogs, Yacht Rock Revival, Good Will Remedy, Jem Cassar-Daly, John Hanley & The Hurricanes, Dusty and the Andy Martin.
While you stroll along the street, be sure to stop in at one of the 20+ breweries that will be in attendance for a sip. Expect to see the likes of Your Mates Brewing Co, Heads of Noosa, Better Beer, 4Pines, Slipstream, Balter, Brookvale Union, Stone & Wood, Burleigh Brewing, Newstead Brewing, Young Henrys and Green Beacon providing the usual quench thirsters amongst a variety of new brews. Pair this with a bite from one of the many food trucks that will be scattered down Stoneham St. With traditional burgers & fries, paella, tacos and pizza all on the menu, we can assure you there's an option for every member of the family.
Support local with The Market Folk, a Brisbane leading marketplace focusing on all things pre-loved, hand-crafted, sustainable and creative that will also have stalls dispersed down the street. For those interested in a browse and a shop, be sure to visit and collect a knick-knack to commemorate your visit to the most epic street party of the year.
Of course, Stones Corner Festival is all about rallying together for a good time but also for a good cause, with the roots of the festival still revolving around raising money for MND and Me Foundation. Funds collected on the day are distributed to Queenslanders living with Motor Neurone Disease and to support ongoing research so gold coin donations are encouraged with plenty of opportunities to win a variety of raffles!
Be sure to mark this one in your calendars. With free entry, Stones Corner Festival is set to be the ultimate outing on April 30!
LINE UP
ART VS SCIENCE
RESIN DOGS
YACHT ROCK REVIVAL
GOOD WILL REMEDY
JEM CASSAR-DALEY
DUSTY
ANDY MARTIN
JOHN HANLEY & THE HURRICANES