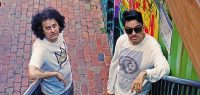 With hip-hop trailblazers Resin Dogs announced on the lineup for Stones Corner Festival's 10th anniversary edition, Bryget Chrisfield catches up with DJ Katch (aka Andrew Garvie), who fondly remembers being part of a genre-diverse music scene while Big Day Out ruled, before spilling Kate Ceberano as a bucket-list collab.
Did Resin Dogs have any hip-hop rivals back in the day?
Who are some other bands Resin Dogs regularly shared stages with?
Which stage did you typically play at Big Day Out?
"I remember playing between 28 Days and Frenzal Rhomb on the Main Stage at Big Day Out one year, but then we'd also be going on after Phil K warmed up for us. So it's pretty weird; we were sort of that hybrid crossover. At Big Day Out they'd put us in the Boiler Room, we'd do that; they'd put us on the Green Stage, we'd do that; put us on the Main Stage, we'd do that.
"We were one of those bands chosen for festivals because we were a live phenomenon. We did okay as recording artists, but the live show is what everyone always talked about, 'cause we could change it up. At that time, we [Resin Dogs] all worked in different genres: Dave [Atkins, drummer] playing in [Brisbane punk/metal band] Pangaea, which was with Ben Ely from Regurgitator, and Chris [Bosley, bassist]: he was playing in a band Emporium, which was really heavy, dark stuff, but he was also into reggae. Myself being a hip-hop DJ and playing on 4ZZZ and playing party gigs and stuff like that. And then Geoff [Boardman], who was in Resin Dogs at the time, he was also hip hop."
What's one of your favourite BDO memories?
Stocktaking after the Mullumbimby floods
"In February last year, our studio in Mullumbimby got a little bit flooded; there was a fair bit of damage to some equipment and carpeting, and I had to move out all my records from there. I grew up in the graffiti-art craze and I lost a lot of books, which are really hard to get.
"[Flood damage] sort of made us clean out the studio space as well. There's a lotta stuff I've actually been going through, here in Brisbane, like passes and flyers and tour books and things from overseas. And I was just looking at it going, 'Oh, there could be a book in this somewhere' – a little picture or story book about events and stuff like that, you know? It'd be crazy. So I've put that idea on the back burner."
What did you donate to The Australian Music Vault's hip-hop section?
"I went down [to Melbourne] for the opening of that, which was pretty amazing. I think there was a drum machine and a sampler in there, and a reel and some posters; the sort of stuff that people probably wouldn't see because it's in the digital – and not the analogue – age of recording so, yeah! That's sort of on perpetual loan at the moment."
Spinning un-Shazamable cuts
"Instead of doing, like, mainstream DJ gigs, I do more funk, soul, Afrobeat and Latin sort of stuff these days. Because I play a lot of vinyl stuff and re-edits – it's hard to Shazam those sorta things, I think. So people come up and they're like, 'Can I take a photo of that [record sleeve]?' And I'm like, 'Sure, man, go for it'."
Using streaming services for new music discovery
"I use Spotify and because I like a certain playlist, I find it starts finding songs for me. You know how they give you an end of year wrap-up? My top genre was disco and I tried to work out how much disco I was actually listening to, but then, like, '80s pop [was the second-most played genre] 'cause my girlfriend takes over my Spotify when we go for car rides! But it's cool, it's good to have a singalong," he says, laughing.
"Then you have to play a few things to get [the Spotify algorithm] back on the right track. And 'cause I listen to a lot of old soul funk, disco and Afrobeat and things like that, it just shows me new music. So I'll go out and find it – try and purchase stuff so that I can play it out at some of the venues I DJ at – 'cause some of this stuff's amazing and people never get to hear it."
Coldcut remix of INXS: "one of those records I just had to track down"
Paging Kate Ceberano!
What can punters expect from Resin Dogs' current live show?
Catch Resin Dogs, Art Vs Science, Yacht Rock Revival, Good Will Remedy, Jem Cassar-Daley + more at Stones Corner Festival, Sunday 30 April. Free entry.
Stones Corner Festival (feat. Resin Dogs, Art vs Science, Yacht Rock Revival & more)
Sunday, April 30
Stones Corner Hotel, 346 Logan Rd, Greenslopes QLD 4120
Free entry from 12pm-10pm