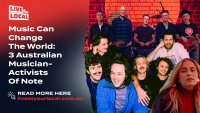 To mark World Environment Day (5 June), we celebrate 3 extraordinary Australian musician-activists who regularly choose to speak out about important issues, particularly surrounding climate change, preservation, and First Nations' rights and respects. Midnight Oil, Jack River and King Gizzard & The Lizard Wizard – we applaud you for continually using your voice, superior songcraft and influence to help inspire positive social change.
Midnight Oil
Midnight Oil – Beds Are Burning
"The time has come/ To say fair's fair/ To pay the rent/ To pay our share/ The time has come/ A fact's a fact/ It belongs to them/ Let's give it back…" – while sporting black tops emblazoned with the word "sorry", in white text, Midnight Oil performed their reconciliation anthem, 1987's Beds Are Burning, as part of the Sydney 2000 Summer Olympics closing ceremony. Held in the 115,000-capacity Australia Stadium, an estimated global TV audience of 3.5 billion also tuned into this closing ceremony. 
"We've always been a political band, but the bottom line is that the songs have to be good," Jim Moginie, Midnight Oil's guitarist/keyboardist/primary songwriter, stressed during an interview. "You can't stand up there playing a G chord for half an hour and saying how the whole world's fucked up, you have to bring people in through hooks."
Moginie founded the band as Farm in 1972, putting an ad in the Sydney Morning Herald to find their lead singer. Only one applicant – an imposing, six-foot-six bloke with a shaved head who was studying law and politics in Canberra – turned up to the audition, which was held in a school gymnasium. Peter Garrett got the gig and the rest is history.  
As well as releasing astonishingly great music, Australian human rights trailblazers Midnight Oil have spent more than four decades speaking out about social injustice, nuclear disarmament and environmental issues. In 1986, Midnight Oil took their Blackfella/Whitefella tour – for which they were joined by the predominantly-Aboriginal Warumpi Band and also Gondwanaland – deep into the Australian outback where they shared their music with remote Indigenous communities. This experience opened up the band's eyes, completely changed their perspective and informed their chart-topping Diesel And Dust record (1987).
While touring the States off the back of 1990's Blue Sky Mining album, Midnight Oil rolled up outside the New York HQ of oil giant Exxon on a flatbed truck, performing in protest of the company's inaction over the Alaskan oil spill and hoisting up a banner that read: "Midnight Oil Makes You Dance, Exxon Oil Makes Us Sick."
When the Oils re-formed properly in 2017, following Garrett's departure to focus on his political career in 2022, the band performed a warm-up show in Greenpeace's Sydney warehouse – for 250 environmentalists, activists and friends – before touring the globe.
And in 2020, two weeks prior to the release of their album The Makarrata Project – a collection of the band's collaborations with First Nations performers, which was conceived to focus on Indigenous reconciliation – Midnight Oil were awarded the Sydney Peace Foundation's gold medal for human rights, for their "commitment to the pursuit of human rights over an extended period".
Frustratingly, heaps of Midnight Oil songs – many of which were released almost four decades ago – are even more pertinent today.
Jack River
Jack River – We Are The Youth
Jack River (real name: Holly Rankin) was inspired to write her 2021 single We Are The Youth – which addresses the urgent need for action surrounding climate change, First Nations' rights and respects, and women's rights and respects – after performing at 2019's School Strike For Climate. "I played to 80,000 young people and I realised that I didn't have an anthem for them, and myself – to express how we felt about the times," she explained during an interview.
Check out the poignant text dedication that rolls out at the beginning of We Are The Youth's accompanying music video, which was directed by Marlikka Perdrisat (a Nyikina Warrwa and Wangkumara Barkindji filmmaker): "This song is dedicated to the billions of young people driving urgent, political and social change. We are living in the Anthropocene. The actions of this generation will define the destiny of humanity and the planet for the rest of time. This song is for the kids staying up late to organise a protest. For the students who work relentlessly to galvanise their peers. For the communities fighting for their culture and their people against an outdated system. For the politicians, who are taking (enough) action for the scientists labouring over data. For the ones maintaining their rage against all odds. We acknowledge this film was made on Aboriginal land, we acknowledge the stories, songlines, culture and relationships that existed here long before colonisation. Sovereignty was never ceded. We need a treaty. Always was, always will be."
Also in 2021, Rankin shared her disappointment over the lack of homegrown music played during Australia's TV coverage of the Olympics on social media, her posts were shared widely – rapidly gaining momentum – and morphed into the Our Soundtrack, Our Stories campaign: a joint initiative with ARIA calling upon Australia's business sector to support local artists by playing more Australian music. Swift change followed, with Channel 7 increasing the Australian music played during its Olympics coverage, and channels Nine and Ten also adjusting their morning show playlists to incorporate more local content. Then 7-Eleven, Bank Australia, Woolworths and Coles followed suit, and committed to playing more local music more often.
In between lockdowns that same year, Rankin curated Visions Of Us, which was billed as "an evening of music and poetry that unites the voices of climate activism, First Nations leaders and young artists" and went down at the Sydney Opera House forecourt. She is also currently working on the Voice To Parliament education campaign for the Uluru Dialogues, having studied Indigenous Law at uni.
King Gizzard & The Lizard Wizard
King Gizzard & The Lizard Wizard – If Not Now, Then When?
"If not now, then when?/ When the forest's nearly gone?/ When the hole's in the ozone?/ When the bees are gone?" – King Gizzard & The Lizard Wizard took out the inaugural Environmental Music Prize (EMP), which honours Australian songwriters and musicians who inspire action on climate and conservation, in 2022 with their climate anthem If Not Now, Then When?, and its accompanying, Dr D. Foothead-directed animated video, which depicts a post-apocalyptic world that eventually disappears entirely.
Written in response to the Black Summer bushfires – which destroyed over 24,300,000 hectares of land across Australia between July, 2019 and May, 2020, devastating communities and wildlife – If Not Now, Then When? was first released in December, 2020.
After receiving this accolade, the psych-rock band's frontman Stu Mackenzie said, "I've written quite a few songs about climate change, but after the Black Summer bushfires, shit started to feel dire. It still feels dire – more dire. We need actual, real, tangible action from our leaders, otherwise what are they there for?
"Why are we not doing everything we humanly can to right our wrongs? When we're literally on fire, why not now? If not now, then when? This song is part of a larger idea, a thread and a collection of narratives that extend through all of our music. Exploring themes of climate destruction, and what that might look like, is an important exploration for us."
The band donated their $20,000 Environmental Music Prize winnings to The Wilderness Society.
King Gizz have previously released other songs, including the boogie-rock Fishing For Fishies and cli-fi metal Infest The Rats' Nest, that call attention to environmental crises. The band constantly try to make packaging more sustainable – using recycled brown paper bags in lieu of plastic shrink wrapping – as well and have been known to press vinyl on eco-wax, which is composed of random leftover vinyl pellets.
Also, every digital copy of their 2021 album L.W. that was purchased from their Bandcamp page came with "a tree" (as in, the band donated $1 from every download to Greenfleet, who plant native biodiverse forests in Australia and New Zealand).