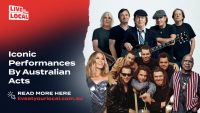 To mark Make Music Australia Day (June 21) – which celebrates "music making, wherever you are, whoever you are, whatever music you play" – we racked our brains to come up with a list of the most epic performances of all time, by Australian artists, then whittled it down to a Top 5 (plus a few runners-up). Did you witness Princess Diana rocking out to INXS, AC/DC entertaining onlookers in Melbourne's CBD from the back of a travelling flatbed truck (we wish!) or The Seekers' homecoming show, which is recorded in the Guinness Book of World Records as the largest concert attendance in the southern hemisphere?
INXS @ Rocking With The Royals (1985)
Remember this one? A concert put on for Prince (now King) Charles and Princess Diana's Australian visit – to join Victoria's 150th anniversary celebrations amongst other royal duties – which they attended IRL. The whole line-up did us proud, with Models and I'm Talking on support duty, but INXS reigned supreme; as witnessed by 3,000 lucky ticket holders inside Melbourne Concert Hall (now Hamer Hall) plus 40,000 fans dancing (in the rain) in the underpass outside, while watching the action unfold on giant screens.
INXS's 1991 Wembley gig was also career-defining, sure, but this powerful performance showcased the band on the cusp of world domination. And we just adore dearly departed Michael Hutchence's intro for What You Need (see above clip): "This is a song about sex" – cheeky as! What's the bet he made Diana blush?
AC/DC on a flatbed truck (1976)
AC/DC travelled to Melbourne from Sydney to film a couple of promo videos for their fourth single, It's A Long Way To The Top (If You Wanna Rock'N'Roll) – the opening track of the group's second album, 1975's T.N.T., which was only released in Australia and New Zealand – especially for Countdown: one featuring the rockers cruising along, performing from the back of a flatbed truck, and the other filmed in Melbourne's City Square. Three pipers from the Rats of Tobruk Pipe Band were also roped in for this shoot.
During an interview, Paul Drane (Countdown's studio director at the time) revealed, "The thing is you could do something like that back then. You could organise it with the city council and it could be done very quickly. We didn't have to shut the streets down or stop traffic. These days you'd have the street shut down for a day. It would be almost impossible." Check out the wicked aerial footage in these vids, which were shot waaaay before drones were a thing, as well.
Did you know? On the 34th anniversary of AC/DC's It's A Long Way To The Top… shoot, the aforementioned clip was recreated as part of 2010's SLAM (Save Live Australia's Music) rally, which protested liquor licensing laws that threatened the future of live music in Victoria. On this occasion, the RocKwiz Orkestra – plus special guests – played AC/DC's song on the back of a travelling flatbed truck as around 20,000 protesters marched alongside it down Swanston Street, from the State Library, and then up Bourke Street to Parliament House.
Kylie Minogue's surprise festival appearance (2023)
It's bloody hard to keep a secret these days so hats/feathered headdresses off to Our Kylie for surprising attendees at Capital Summertime Ball, held in London's Wembley Stadium, with a two-song cameo earlier this month. Also, how good are some of the vids capturing startled fans reacting to Kylie suddenly appearing – rising up through a centre-stage trapdoor – that did the rounds on TikTok!?
Wearing a drapey red ensemble and thigh-high stiletto boots, similar to her outfit in Padam Padam's music video, Miss Minogue then performed this latest banger – Kylie's biggest hit in years – before following it up with her most successful single to date, 2001's irresistible Can't Get You Out Of My Head.
We personally can't get enough of Padam Padam – the first taste of Kylie's upcoming 16th album, Tension – which is scheduled to drop on September 22. Bring it on!
Archie Roach supporting PK @ Hamer Hall (1989)
After the late, great Steve Connolly saw the then-unknown Archie Roach (Rest In Power) performing Took The Children Away on the ABC TV series Blackout, he suggested the young Gunditjmara and Bundjalung fella should open for Paul Kelly & The Messengers at their 1989 Melbourne Concert Hall (now Hamer Hall) show. Vika & Linda Bull were in attendance on the night and Linda has described Archie's rendition of Took The Children Away as "one of the greatest performances of all time".
Kelly has recalled that after Archie concluded his 20-minute set with Took The Children Away, there was "dead silence": "[Archie] thought that he bombed and just turned and walked off stage. [But] as he was walking off, this wave of applause grew and grew. The audience had been so stunned that it had taken them a while to respond; I'd never heard anything like it."
Archie hilariously admitted that when he first met Paul backstage at this show he initially thought the headlining singer-songwriter was a security guard! Pre-show, Paul visited Archie in his dressing room and was dressed in all black at the time, a colour scheme usually favoured by security guards, as Archie pointed out in their 'Back To Charcoal Lane' interview: a YouTube series that marked the 30th anniversary of Charcoal Lane (in 2020). "Sorry I mistook you for security, brother!" Uncle Archie then apologised, laughter coursing through his entire being.
In his 2019 memoir, Tell Me Why, Archie wrote about walking off stage following this performance: "The little security bloke had tears in his eyes as he shook my hand. It was a strange night."
Undoubtedly, this meeting impacted the lives and career trajectories of both Roach and Kelly.
The Vines trashing Letterman set (2002)
One of the most memorable and polarising performances in television history has just gotta be The Vines performing as musical guests on The Late Show With David Letterman. This Sydney band – well, mainly frontman Craig Nicholls (who was diagnosed with Asperger's Syndrome in 2004) – was already notorious for their chaotic and unpredictable shows. And as their performance of the incendiary Get Free – the band's highest-charting single – drew to a close, Nicholls knocked most of Hamish Rosser's drum kit over with the neck of his guitar before hurtling his axe into what was left of the kit (Rosser tossing his sticks in the air and quickly getting Outtathaway – geddit?), doing a forward somersault over an amp, yowling into the mic and crawling along the floor. Letterman wasn't mad, though, and was shown laughing it up, post-performance.
Fun fact: Rumour has it that Craig's meltdown partly occurred out of exasperation, because he accidentally de-tuned his guitar while jumping in the air.
Runners-up
The Seekers @ Sidney Myer Music Bowl (1967)
The Seekers made history when they returned home to Melbourne – after basically conquering the world – and played for an estimated 200,000 punters at the Sidney Myer Music Bowl, which was recorded in the Guinness Book of World Records as the largest concert attendance in the southern hemisphere.
Skyhooks @ Sunbury (1974)
Were it not for this disastrous early performance (the story goes that the searing heat in Sunbury that day melted the band's makeup and also warped their guitars out of tune, before they were booed – and bottled! – off stage), OG Skyhooks lead singer Steve Hill may not have left the band to make way for Shirley Strachan!
Split Enz @ Sound Relief (2009)
We've hoped and prayed for a full reunion tour since Split Enz re-formed for this breath-taking one-off performance for a fundraising gig at the MCG, to raise funds for those affected by Victoria's Black Saturday bushfires.
Memorable moment: While Split Enz performed I See Red, Red Symons even sauntered across the stage – LOL.
John Farnham @ Fire Fight Australia (2020)
An abundance of international superstars – including Queen, Alice Cooper and k.d. lang – graced Sydney's ANZ Stadium stage, but none of these stellar performances came close to the mighty Farnsy singing You're The Voice, joined onstage by Olivia Newton-John, Brian May on guitar, Mitch Tambo (who sang the second verse in Gamilaraay), pipers and a number of volunteer firefighters who joined the throng towards the end of the song – talk about not a dry eye in the house!
Icehouse @ Uluru (2022)
Just imagine experiencing Great Southern Land with Uluru in eyeshot? We've got goosebumps just thinking about it.