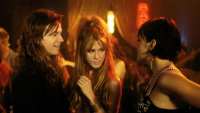 The tribute act scene has really exploded over the last couple of years. Especially if you can't experience the real deal, for whatever reason – eg. your fave international act's 'world tour' announcement contains zero Australian dates, one of the band members is sadly no longer with us or suffers from aerophobia – checking out the respective tribute band really is the only way to appreciate their catalogue in a live setting, celebrate your fandom and meet like-minded legends while you're at it.
We have it on good authority that these tribute shows with a '90s focus – The Pearl Jam Experience, Blink-182 & Green Day Experience and Royale With Cheese (which basically covers the lot) – are world-class and well worth checking out, so be sure to snap up tickets when they hit a venue near you!
The Pearl Jam Experience
It's fast approaching 30 years since Pearl Jam released Vs. (the album dropped and blew our collective minds on October 12, 1993) and, as such, The Pearl Jam Experience are busily prepping to mark the occasion with a national tour, which kicks off on September 22. Go, Daughter, Animal and Dissident were the killer singles off this record and who doesn't wanna have a good old-fashioned singalong to as close as you can get to the real thing?
To celebrate the 30th anniversary of this legendary Seattle grunge outfit's second album, The Pearl Jam Experience will perform Vs. in its entirety before returning to the stage for an extended encore of fan favourites. They formed in Melbourne and have been paying homage to their musical heroes for over a decade now so The Pearl Jam Experience will obviously have every single nuance down pat. Prepare to be wowed.
Blink-182 & Green Day Experience
How's this one for a twofer deal? Blink-182 regularly cite Green Day as a primary influence, in fact both bands joined forces for the co-headlining Pop Disaster tour in 2002 (see: the Riding In Vans With Boys doco) so it makes perfect sense that the Blink-182 & Green Day Experience draws from the discographies of both of these chart-topping, top-selling, three-chord pop-punk luminaries in the one show, right?
Following Travis Barker's horrific plane crash in 2008, Blink's drummer suffered from aerophobia for yonks, which was tough luck for Australian fans but great news for the Blink-182 & Green Day Experience, we're tipping. Miraculously, Blink-182 are all set to tour our shores early next year. So why not whet your appetite for the real deal and get in the zone with a singalong rehearsal courtesy of the Blink-182 & Green Day Experience?
You'll, of course, be treated to Blink's smash hits – including All The Small Things, What's My Age Again? and Mutt – plus a selection of Green Day's bangers: eg. American Idiot, Basket Case and Good Riddance (Time Of Your Life).
Royale With Cheese
If you're up for a tasting platter of songs from the entire decade, you need to head along to see Royale With Cheese: Australia's premier '90s rock show. From grunge to Britpop with plenty of 'classic '90s Oz rock thrown in for good measure, memories from one of the greatest and most influential musical decades will come flooding back as you're reminded of long-forgotten gems to immediately add to your fave playlists. You can expect to hear Royale With Cheese pump out back-to-back hits from the likes of Nirvana, Soundgarden, Red Hot Chili Peppers, Blur, Silverchair, You Am I and The Screaming Jets to name just a few – all killer, no filler.
Added bonus: you can rest assured there will be absolutely no need to grin and bear it while tolerating these bands testing out new material.
See The Pearl Jam Experience:
22 September – Sydney, Crowbar
23 September – Canberra, UC HUB
6 October – Brisbane, The Triffid
7 October – Gold Coast, The Wallaby
27 October – Geelong, The Barwon Club
28 October – Rye, HABA
11 November – Hobart, Altar
17 November – Perth, Amplifier
18 November – Adelaide, Lion Arts Factory
8 December – Melbourne, The Espy
TICKETS
See The Blink-182 and Green Day Experience:
4 August – Stamford Inn, Rowville, VIC
TICKETS
5 August – Mac's Hotel, Melton VIC
TICKETS
See Royale With Cheese:
August 3 – The Lounge, Nundah QLD
August 4 – Jindalee Hotel, Jindalee QLD
August 5 – Kings Beach Tavern, Caloundra QLD
August 12 – Stag & Hunter, Newcastle NSW
August 18 – Haba, Rye VIC
August 19 – Wool Exchange, Geelong VIC
August 25 – Koala Tavern, Capalaba QLD
August 26 – Miami Marketta, Gold Coast QLD
September 2 – Collector Hotel, Parramatta NSW
September 15 – Ambarvale Hotel, Campbelltown NSW
September 16 – Heritage Hotel, Bulli NSW
September 30 – Great Western Hotel, Rockhampton QLD
October 6 – Metropolitan Hotel, Mackay QLD
October 7 – The Mansfield, Townsville QLD
October 8 – Dunwoody's Hotel, Cairns QLD
October 14 – The Country Club, St Georges Basin NSW
October 20 – Panania Hotel, Panania NSW
October 27 – Brass Monkey, Cronulla NSW
October 28 – Wallaroo Wines, Wallaroo ACT
November 10 – Rhythmboat, Port Macquarie NSW
November 11 – Moonshiners, Tamworth NSW
December 2 – The Oaks, Albion Park Rail NSW
December 15 – Bridge Hotel, Rozelle NSW
December 31 – Brass Monkey, Cronulla NSW
TICKETS