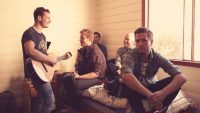 After recently signing a new management deal, Boy & Bear found themselves in a position to release their self-titled latest fifth album independently. We catch up with Dave Symes to discuss how he became an ace of bass, what it was like to join the already-established group and how banding together in the wake of frontman Dave Hosking's chronic illness diagnosis made the Sydney quintet "tighter than ever".
Becoming an ace of bass
"I started playing the guitar pretty young, around eight years of age, which was through one of our dear neighbours who gave me their son's old guitar. I showed some interest so mum and dad got me to have some lessons and stuff, so it just happened quite organically in the real beginning.
"I was a classical guitarist and went to the Sydney Conservatorium High School from Year 7 and so music got pretty serious then, pretty quickly – in a good way. It was through that journey of being there that my eyes and ears and mind were opened up to all these other opportunities and potentials. So while it started really classical-heavy, I moved into the jazz stream and that was when I think it really clicked: 'Oh, this is more me, this is how I wanna start playing.' Stylistically, I started playing the bass, the double bass, and got into all that kinda stuff and it really shifted."
Play that funky music
"When I started playing the electric bass, which happened in high school, my musical mind opened up to a lot of soul and funk, and stuff [from the] '60s and '70s. And that era of music is really what pushed me into playing in soul and funk bands. But that led to rock bands as well, you know what I mean? So, yeah, I was listening to all that stuff from James Brown to Donny Hathaway, Al Green, The Meters, Sly And The Family Stone, Ray Charles, Aretha Franklin, Otis Redding, Stevie Wonder, a lotta the Motown stuff – it was that African-American. soul-funk library that really started to turn me on from when I was about 16, and I just started wanting to play the bass like that.
"And that opened up the next chapter, which ran alongside – I studied jazz and did a degree and all that kind of stuff in the music school, then at the weekends and at night I was playing in funk bands. And that was a really great parallel, actually, because I was playing all the time and learning lots of different stuff. So I had two schools going on: the one on the street and the one at the uni."
All that jazz
"Once I got into jazz, it really opened up the freedom of not reading the dots all the time; of actually playing and interacting with other players… My whole thing is playing in ensembles and I started forming little bands. It was a pretty great time and so, yeah! I definitely knew, from the age of 15 or 16, that I wanted to be a musician – that was what I was gonna do – and fortunately for me it really worked out.
"And I was already gigging at that age – doing jazz gigs around town and things like that, making my pocket money – and then I moved outta home as soon as I finished school, and moved into a share house full of jazz musos in the middle of the city, and just sorta went for it, you know? And, yeah, it's been a great journey."
Pre-Boy & Bear CV
"I'd already been in some established bands and done lots of stuff as a player around town; I'd had a career before that [joining Boy & Bear in mid-2012]. I have been fortunate to collaborate and work with lots of really great artists. I've done a lot of work with Sarah Blasko, I was out on the road with Missy Higgins for a bunch of years and another band called The Sleepy Jackson, who were awesome – Luke [Steele]'s a legend. I've always been doing heaps of different, really varied things stylistically, too."
Boy & Bear recruit new boy
"When these guys were having a situation where the old bass player [Jake Tarasenko] had decided to move on, they still had some [upcoming dates locked in]. Their tour manager/front of house [sound engineer] was a legend, Greg Weaver – who I worked with a lot with Sarah Blasko – and he had recommended that I'd be a good person to help out. And I was really keen, 'cause I'd gone to see the band that year – they had a show at the State Theatre – so I'd actually gone along and seen the band and I was really into it.
"They asked me to do a show that I wasn't available for and I remember being really bummed-out that I couldn't do the show. They got somebody else and that didn't really work out, for whatever reason – it didn't feel like that was the right fit – and they hassled me again and said, 'Oh, can you do Falls Festival?' And it was just perfect timing. I jumped into rehearsals and we did these great shows, and we just sorta clicked straight away."
"You're not gettin' out until you sign on the dotted line"
"There's a bit of a funny story where they locked me in the tour van and said, 'You're not gettin' out until you sign on the dotted line!' [laughs] Which was pretty awesome. But that led to the conversation as well: 'We're doing a new record.' So then I was in the studio with them the next month."
"It felt like I'd been in the band forever"
"Harlequin Dream [2013] was the first album that I jumped on for, which was great, so that had its ten-year anniversary as well this year. And, timing-wise, it was just serendipitous. It was like, 'You know what? I'd love to join a band again.' I hadn't been in a regular band for a little while, and they really wanted to do a new record and wanted me to do all the touring – I was really hungry for that and it just all sort of fell into place.
"I guess we just connected spiritually and we connected musically and I felt like I joined the team in a really comfortable, positive way; it felt like I'd been in the band forever. So it's pretty amazing, you know? Things like that don't always work out, for multiple reasons – it can be hard to join an established project – but it just all sorta seemed to lock in. And I felt like it was the right time for me to commit to something like that, because I felt so good about the music, you know what I mean? It just felt like it really fit and that's ten years ago now – four albums later – which is also hard to believe, really. But there you go!"
Recording at Peter Gabriel's Real World Studios
"The next record was Limit Of Love [2015] and that's when we went over to Bath in the UK, and we recorded at the famous Peter Gabriel's studio called Real World. It's on a real English countryside estate, beautiful old buildings and things like that. It's got a stream that runs all around it and then this nice studio is built in the middle. I think [Peter Gabriel] has got a house up the stream so, yeah! It's like a little village. He's got his record company there as well and things like that, all onsite, so that was an amazing experience and, yeah, amazing equipment.
"And we worked with a guy called Ethan Johns who is a beautiful musician and producer, and that record was a real stripped-back, full-band record, kinda like, 'Let's just go back to the five of us in one room, playing live, no overdubs.' I guess it's a little bit more of an old-school approach, you know? So that was great."
"Music got us through and our bond as a band became tighter than ever"
"Poor little Dave [Hosking, Boy & Bear's frontman] has had a hard time [since his Chronic Dysbiosis diagnosis]. He's in a good spot at the moment, he's sort of got a few different things that he just has to be constantly managing, and there's different protocols on things that he has to try. He's got a really good team of doctors that he's been able to access and work closely with to try things and he works on it a lot, you know, for himself to get on top of things.
"But when it first hit the fan kinda thing – when he needed to just take time out – it was a hard patch, but interestingly, looking back, it was still a super-creative patch for the band. The rest of us just started writing new music – this was for our last record, Suck On Light [2019] – and we would sorta send him little things and just call in and see him. And he was determined that he needed a really long time off, but it wasn't long before he got the itch and would start turning up with us to the writing room. So music got us through and our bond as a band became tighter than ever by having to work through something like that. And I think that's part of longevity for a band, actually, is how you always look after your weakest member at whatever time that might be, and who that is does change on any given day – or show – you know? So it's a good thing to have been able to work through together and learn some skills in how to really keep the thing kicking along."
Local love
"This latest one [Boy & Bear] wasn't a destination record, it was way more homegrown, but it was nice to be able to just walk from your house and go to the studio, and keep it really local [laughs]."
Releasing their self-titled latest fifth album independently
"The band's been around 12 years or whatever it is [they formed in 2009], we signed with some new management and we were in a position where we decided to do this record independently. It feels like a bit of a new chapter and, looking towards the next ten years, it just felt like the right time to go self-titled.
"We're super-excited about the new record. It's still classic Boy & Bear, but we feel like we're really pushing a few things that we've been interested in in the last few years. And so there is a bit of a mix of electronic influences in there; especially in the drum machine world and some more synth sort of things. It's still the whole band performing, but we're just really working on that blend of old school and new school, and that's something that's been evolving over the last few records.
"We're getting to a place where we're really, really enjoying recording like that, but then playing live now they [the new songs] still translate really organically for us."
"We're actually still doing this and people are coming to the shows"
"Every time I get on stage and there's people there to watch you play, it doesn't matter if there's ten people or 10,000 – I dunno, it never gets tired, it never gets unsatisfying. It's always, like, you have little pinch-yourself moments. It's just amazing! We're actually still doing this and people are coming to the shows, it's pretty exciting."
Surprise sax appeal
"We have a good mate Matt Ottignon, an amazing saxophone player, who played a couple of things on the new record so he's been coming up and doing some nice solos for us on a coupla tracks and really brings it home for the crowd. I think they really enjoy it, it's really cool. He's a great player, too – he gets a great sound – so that's been super-fun… We play Apex off the new [self-titled] record, the one with the sax, which just seems to be going off live in a really exciting way. So it's been really fun, actually, to play a bunch of the new songs and have people connect straight away."
"[Music] gives you a kick in the backside every day"
"The thing with music, I think, is you'll never get there, either. But that's maybe part of its beauty: it gives you a kick in the backside every day, 'cause you could always be better and work harder. There's always something to turn you on and get you interested again. But it's a hard journey, the music thing, and there's no guarantees; you're constantly hustling to keep it going."
TOUR
Wed, SEP 13
THEATRE ROYAL, Castlemaine, Australia
TICKETS
Thu, SEP 14
GIPPSLAND PERFORMING ARTS CENTRE, Traralgon, Australia
TICKETS
Fri, SEP 15
PIER BANDROOM, Frankston, Australia
TICKETS
Sat, SEP 16
TORQUAY HOTEL, Torquay, Australia
TICKETS
Sun, SEP 17
TORQUAY HOTEL, Torquay, Australia
TICKETS
Thu, SEP 21
BEER DELUXE ALBURY, Albury, Australia
TICKETS
Fri, SEP 22
ANITA'S THEATRE THIRROUL, Thirroul, Australia
TICKETS
Thu, SEP 28
CIVIC THEATRE NEWCASTLE, Newcastle, Australia
TICKETS
Fri, SEP 29
DRIFTERS WHARF, Gosford, Australia
TICKETS
Sat, SEP 30
BLUE MOUNTAINS THEATRE AND COMMUNITY HUB, Springwood, Australia
TICKETS
Wed, OCT 4
ALBANY ENTERTAINMENT CENTRE, Albany, Australia
TICKETS
Thu, OCT 5
THE RIVER, Margaret River, Australia
TICKETS
Fri, OCT 6
THE RIVER, Margaret River, Australia
TICKETS
Oct. 7 – 8, 2023
OUT OF THE WOODS FEST 2023,Fremantle, Australia
TICKETS
Wed, OCT 11
THE SEABREEZE HOTEL, Macaky, Australia
TICKETS