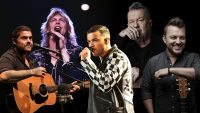 To mark Father's Day (this Sunday 3 September), we're spotlighting five legendary Australian muso dads. Some have adult children who are following in dad's musical footsteps, others are relatively new to the fatherhood game and two even immortalised their impending fatherhood journeys in song! 
John Farnham
John 'The Voice' Farnham – household name, cultural icon and ARIA Hall of Hamer – has collected an astonishing 20 ARIA Awards across the course of his brilliant career. He was also the only Australian artist to boast a #1 record in five consecutive decades (akin to Cliff Richards in the UK) until his mate Jimmy Barnes joined this exclusive club in 2021.
Following his throat cancer diagnosis in 2022, 'The Voice' underwent a 12-hour operation to remove a mouth tumour and we could not have been more stoked to read that – as well as enjoying the rapturous reception his doco John Farnham: Finding The Voice has received of late (if you haven't already watched it, we suggest you do so sharpish) – he's now cancer-free!
Public statement from Farnsy (23/08/23): "It's been a year since my first surgery and to be honest I've lost count as to how many other procedures there's been since then. I'm sure someone's kept track of them all – let's just say, there's been a few. But, I'm home now and I'm a very grateful and happy man. I'm sitting here in my living room lapping up the attention from my beautiful wife, Jill, my boys Rob and James and my mini Schnauzer, Edmund.
"It's only now that I can start to appreciate and comprehend, for myself, how many messages of love and support have been sent to me over the past year. I don't know what to say, other than thank you so very much. It honestly means the world to me. Thank you to everyone who took the time to write and send a message.
"Today is a special day. And I'm going to mark it by having a pizza – because I can! I can't wait to see what might be next on the menu. Bring on 2024."
Close family friend Gaynor Wheatley (the wife of Farnham's late friend/manager, Glenn) even went so far as to say, during a recent radio interview, that Farnsy's been singing around the house since returning home from hospital. It really warms our hearts to know that John will be spending this Fathers Day back home with Jill and their sons Robert (an actor) and James (Rival Fire's vocalist).
Did you know? There were no bagpipes on You're The Voice's original demo. It was Farnsy himself – a big fan of AC/DC and It's A Long Way To The Top (If You Wanna Rock 'N' Roll – who suggested pipers could very well elevate this song's arrangement to next-level status.
Dan Sultan
Dan Sultan and his wife Bron are the proud parents of two young children. When asked how becoming a dad changed him during a previous chat with this scribe, the Arrernte/Gurindji singer-songwriter revealed: "I didn't really see it as changing; I saw it as just becoming more of the person I always was, you know? And, if anything, I stopped changing, which is a definite shift in perspective. It's beautiful. It's great. I love it. They're awesome. We have a beautiful family and marriage, my wife and I."
On whether his latest single Fortress (feat. Julia Stone) encapsulates the domestic bliss he's describing, Sultan enlightened, "That's what I'm singing about in every song [from his brilliant self-titled album, released just last month] – you know, as far as the meaning and the emotion behind it – but, yeah! Fortress is about the family home or the home.
"For me, it's the family home and our beautiful little scene here. But it can mean anything to anyone: it can mean you get home and you lock the door and you get your favourite pair of trackies on, or whatever it is, you know what I mean? Just shutting everything else out for a moment and giving yourself a little bit of time to be still."
Did you know? In 2019, Sultan released a children's book and companion album – Nali and Nali & Friends (which was named Best Children's Album at 2019's ARIA Awards) respectively, both of which were co-written with his long-time pal and collaborator, the filmmaker Rhys Graham.
Jimmy Barnes
Everyone's favourite Working Class Man has actually been inducted into the ARIA Hall of Fame twice (with Cold Chisel in 1993 and then as a solo artist in 2005).
When Blue Christmas, Barnsey's 2022 Christmas album, topped the ARIA Albums Chart, it became his 15th #1 solo album in this country – more than any other artist, Australian or otherwise (including The Beatles, who managed to clock up 14 chart-topping records in total). Also, if you add Cold Chisel's output to this tally, Barnsey's combined sum of #1 records here hits 20 – wow!
It just has to be said that the Barnes family's Facebook live performances were exactly what we needed to help us survive lockdown. And of the 200 or so songs they posted, we particularly rated Jimmy's take on Secret Love by Doris Day (no shit!), accompanied by his own thigh-slapping percussion plus wife Jane – who taught herself how to play guitar and bagpipes during lockdown – on guitar duty.
Barnesy's eldest son – singer, actor and TV personality David Campbell – was born when he was only 16, a year before he became Cold Chisel's lead singer. Jimmy and Jane's brood – Mahalia, Eliza Jane (EJ), Jackie (who was Rose Tattoo's drummer for a spell) and Elly-May – were all members of the children's pop group The Tin Lids way back when.
But old mate actually has seven kids (two of which he only found out existed, and then met, in 2010). His other two children – daughters Amanda Bennett and Megan Torzyn, who both have different mums – were welcomed into the Barnes clan by Jimmy and Jane, with Jimmy commenting during an interview around that time: "My kids are all so great that when I found out there were a couple more, I felt they would be good people, and they're lovely girls. My only regret is not knowing them when they were younger, but life is what it is and all things happen for a reason. At the time it was probably better for them that they didn't know me, because I was pretty wild."
We sure do hope the Barnes family has a big enough dining room table to host all those kiddos for Father's Day lunch!
Fun fact: Amanda and David both attended Adelaide's Northfield High and were even in the same year level, totally unaware that they were half-siblings.
Guy Sebastian
"From the time your/ Hand didn't fit 'round my finger/ The first time that I saw you smile/ I realised why I'm alive…" – so commences Big Bad World, which Guy Sebastian wrote for his son Hudson (aged 11), older brother to Archie (aged 9).
"Hudson had a song written for him called Big Bad World, which I wrote when he was in the womb," Guy revealed during an interview. 'And Archie was a little bit jealous, he wanted his own song. So I wrote him a song on this album [2020's chart-topping, Platinum-certified T.R.U.T.H.] called In A World and it's basically a prayer, I guess, for a world that's a safe place for our kids to grow up in, where teachers can teach without training for a tragedy, where you can love the one you love without fear."
Guy also revealed that both of his sons are very musical and have "really, really great pitch and feel". So he invited his boys into the studio to sing BVs on In A World – no wonder it's his favourite song on T.R.U.T.H.! "They start singing in the bridge," he clarified, "and I sorta fade out one of the feature girls on the album, Shungudzo – I fade out her vocals and the boys come in. And I do get emotional – still! – hearing that song.
"Hudson's always sung, but it was actually Archie that really surprised me in the studio, because he's a lot more shy, and when he started singing this song it was just this beautiful, perfect, breathy voice. And it was beautiful to watch, because he doesn't back himself as much as Hudson."
Untoppable gift alert: In 2020, Guy's Mother's Day gift to his wife Jules – which she has described as "his absolute crescendo of excellence" – easily surpasses every amazing gift idea you've ever had: he recorded a song to the tune of Forever Young, together with their sons, and changed the lyrics to specifically relate to her. I mean, bow down, right?
Travis Collins
"I know we ain't met/ Still got a few weeks left/ But I kinda thought that I should warn ya/ You got your work cut out here for ya…" – the chart-topping, multi-award-winning country artist Travis Collins also wrote a song about impending fatherhood, 2023's Raise Me, which resonated – far and wide – with anxious fathers-to-be. Here's what he had to say during a previous convo with Live At You Local:
"In the video it starts with me and my phone, like, doing a selfie video – that was the start of the song. And it was never intended for recording or releasing; this all happened what is now two years after that song was written.
"[Raise Me] started as just me penning a letter and a little melody, and singing into my phone with the only purpose that one day I'd play it for her [baby daughter, Ava], just to mark how I was feeling three weeks out from her arrival: I was feeling kinda scared and a bit vulnerable, and I wasn't ready, but, you know, was just gonna try and do my best. But I played it to my management and then once the label heard it they said, 'Man, that's gotta be something that you record.'
"I've gotta be honest and say – more than anything I've ever written – this particular song, I've had a lotta people reach out and particularly people that were in my boat that were first-time fathers, expecting, and concerned that they didn't have a connection to their child before it was born, like, while their partner was pregnant. It's really a difficult thing, because – I wouldn't say it's necessarily a win for the girls [laughs]. But I was so jealous when my wife very obviously had a physical connection, from day one – even though it wasn't a great one, you know, she'd have morning sickness and vomiting – that had already started. And I was so worried, but I wasn't feeling any of that – like, she'd have the baby kicking at four months and I was just like, 'Man, I should feel something and I don't yet,' and I started to worry that that was gonna be some kind of indication of my capacity to be a parent.
"And then, yeah! It all came together one night about a month before her due date when I was sort of putting her nursery together – you know, the cot, the flatpack furniture – and putting up shelves and hanging all the plush teddies on the walls. And so I guess logically that's what had happened for me: the simple caveman brain suddenly made sense that, 'Shit! Someone's moving in here very soon,' and the penny dropped and the connection was made. And I'm hanging up the little dresses and onesies and stuff in the cupboard and I'm thinking, 'Oh, my God, I can feel it; she's close,' and from that moment on I was just overwhelmed with so many different emotions. And for the next couple of weeks I was just absolutely terrified that I had no idea what I was doing! And, anyway, that's where Raise Me came from…
"So I've learnt since then that parenthood's just – you never really have control of it; as long as you're trying, that's really the whole dance, man. No one is as good a parent as they wanna be, nobody is. But I think as long as you're constantly trying to be better, that's really all there is to it; that's actually the best parent you can be, is the one that wants to wake up every day and be better than the one you were yesterday."