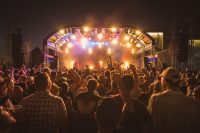 Despite urban myths to the contrary, live entertainment is not dead in Australian pubs.
Aussie acts are well and truly punching above their weight in the original music ranks, earning kudos for stage presence and performance on international stages the world over, largely due to the hard yards ground out in the long renowned Aussie pub scene.
Live at Your Local pubs are made up of many and varied rooms in suburban and regional Venues around the country. Whilst we might not be absolutely everywhere, we're likely to not be too far away. We embrace a broad spectrum of entertainment to bring you, the loyal punters, the chance to experience a live entertainment experience within reach of your neighborhood.