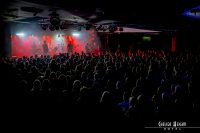 At our core, the Chelsea Heights Hotel is dedicated to you, its locals and new visitors. One of the peninsula's iconic establishments, we've spent a decade embedding ourselves in the community and building relationships with our local suppliers.

Here at The Heights we pride ourselves on being a Live Entertainment precinct with local and international acts gracing the stage regularly. From Pennywise and Parkway Drive to James Reyne and Daryl Braithwaite, we've got you covered.
Just an eight minute drive from Edithvale Beach, it's also easy access to the popular Mornington Peninsula.