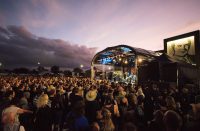 Located just a short distance from Adelaide's CBD sits Coopers Alehouse, a result of a blended offering from beer experts, Coopers Brewing, and Gepps Cross very own local pub, the Gepps Cross Hotel.
At our core, we know our beer and how to make it as it should be. We've renovated our space to be the perfect place to enjoy a brew, and we've perfected our menu to match. We'll bring you your favourite pub classics, enough to warm any heart. But we've kicked it up a notch, adding succulent steaks, fresh seafood, share plates to devour with your friends, crispy green salads and easy delicious street food.
The home of Adelaide's Hotter than Hell festival, we also host our fair share of free and a few very special ticketed shows in the Beer Garden.

We offer the comfort of an old school brewery, mixed with a contemporary, laid back style perfect for any occasion. Settle in for a family dinner in our bistro, or catch up with mates over a beer or two in our beer garden. We've got something to suit everyone.