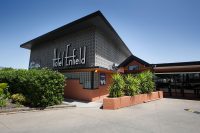 Sitting on Hampstead Road in Clearview, the Enfield Hotel has been a local favourite in Adelaide's north for years.
A 20 minute drive from Adelaide's central business district, we're an ideal spot for families to meet for an overdue long lunch, for mates to catch up with a beer and watch the game, to celebrate a milestone birthday or special event, and for visitors to stay in affordable accommodation when exploring the best of South Australia.
Our Bistro has something for everyone, including fresh seafood, steaks, pastas, salads and all the pub classics you know and love. We have a dedicated menu for our youngest guests to keep everyone happy, and a delicious and affordable seniors menu.
If it's a drink you're after, look no further than our Sports Bar. Sip a brew while relaxing in one of the lounges broadcasting sport from a number of large TV screens. Choose one of our beers on tap or take a look at our spirits, cider and wine list, and for those after a quick bite, we have a refined menu available with pub classics that are suited perfectly to enjoying with mates.