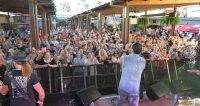 The Ettamogah Hotel is an iconic family-friendly venue located in the heart of Kellyville Ridge.
Ettamogah Hotel hosts some of West Sydneys best live entertainment. Wether is it's comedy, rock, alternativve, country, heavy metal or tributes…we've got something here for everyone! Keep an eye on Live At Your Local page or head to our socials for what's coming up next.
Our Sports Bar bosts 15 dedicated sports screens which can display individual channels, or link together as one super screen, you'll never miss a minute! The perfect spot for a cheeky brew in the afternoon with mates; we're also an Official Home of UFC venue, meaning we air all the big-ticket PPV and Fight Nights live, loud and free.
A modern, and exciting hotel that boasts multiple dining areas, including a large undercover courtyard and state of the art children's play centre which features our custom rock climbing wall and jungle gym.

Whether you're looking to celebrate a special event with family and friends, catch a live gig or enjoy an intimate dining experience, The Ettamogah Hotel guarantees fun for kids of all ages.