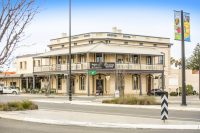 Located just down the street from Port Adelaide's dock and Port Creek, The Exeter Hotel has been serving locals and visitors for years. We've been an important community centre for a while, located just out of central Port Adelaide.
Dine in our Bistro and experience the best of our menu inspired by our local South Australian suppliers and producers.
Our menu boasts succulent steaks, wholesome pastas, fresh seafood and all the pub classics you know and love done just right. Or if you're in the mood for a brew, head into our Sports Bar to catch the game and sample one of the many ice cold beers we have on top, in addition to our list of wine, cider and spirits.
At the Exeter Hotel, we do things with our customers in mind, and you'll find the same friendly and welcoming team each visit. Stop in today and see what your favourite local is up to.