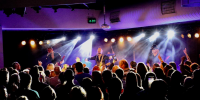 In the heart of Corio, The Gateway Hotel earns it's name from sitting on the Princes Highway, as the eastern entrance to Geelong.
We've been serving locals, visitors and the alike for years, embedding ourselves into the local community and beyond. Only a 15 minute drive from Geelong's city centre and 10 minutes from the centre of Lara, the Gateway Hotel is the perfect place to stop in, grab a bite, or stay and experience the best of Corio and beyond.
If it's entertainment you're after look no further than Gateaway Hotel. We host of the best live entertainment in Geelong and pull some of the best artists from all over Australia and internationally including comedy, rock, country, hip hop and more. Stay tuned to Live At Your Local website and our socials for what's coming up next.
We have a selection of ice cold beer on tap, wine, cider and spirits to suit every taste, have a chat to our team and see what we have on offer for you.