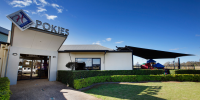 Highfields Tavern is situated on the corner of Highfields and O'brien Roads north of Toowoomba. We offer a warm and welcoming local pub with refreshing drinks, quality pub meals and friendly service.
Highfields Tavern hosts some of Toowoomba's biggest touring entertainment including Country, Rock, Alternative, Tributes and Comedy. We've got a little something here for everyone at the venue, so keep an eye on our socials for what touring is coming up next!
Dine in our Family Bistro, sip on your favourite drink in our Sports Bar or play some pool. We're an Official Home of UFC venue, meaning we air all the big-ticket PPV and Fight Nights live, loud and free. We also offer function space perfect for celebrating social and corporate events, from birthday parties to weddings, business meetings and more.
We're a favourite of locals and visitors alike, so come down to Highfields Tavern and see what all the fuss is about!