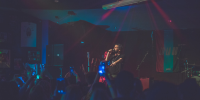 Sitting on Read Street in the centre of Rockingham, Leisure Inn is in the heart of the community and hosts some of the best live entertainment in town. A stone's throw away from the shores of Rockingham Beach and less than an hour drive south of Perth CBD. We have a little something here for everyone at Leisure Inn. Pulling in artists Internationally and locally including Kiwi, Comedy, Hip Hop, Alternative Rock and more. Keep an eye on Live At Your Local website or our socials for what's coming up next.
Our Sports Bar is the perfect spot for a cheeky brew in the afternoon with mates; we're also an Official Home of UFC venue, meaning we air all the big-ticket PPV and Fight Nights live, loud and free.
Our spacious bistro has the everything you want for your overdue family lunch, a catch up with mates or an intimate date night. Featuring modern accommodation and function hosting facilities, we're you're destination in Rockingham.
We're the perfect getaway to experience the best of Western Australia's coastline.