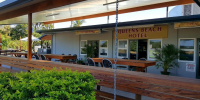 In the coastal town of Bowen lies Queens Beach Hotel, a local pub that's a favourite in the area. If you're catching the game, our Legends & Winners Bar is the place to be. With multiple large TV screens throughout the bar, you'll have a front-row seat no matter where you are. In addition to broadcasting sport on the big screen, we bring live music and entertainment straight to Queens Beach. 
As an Official Home of UFC, we showcase every PPV and Fight Night live, loud and free.
Be sure to check out what's coming up at Queens Beach Hotel – there's always something on at your local.