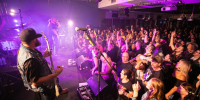 Sitting a 30 minute drive from Brisbane's CBD, the Racehorse Hotel is a local institution and central pillar in the city of Ipswich.
We've been serving the community for years with delicious food and great quality service. Across from Bundamba Racecourse and Ipswich Turf Club, we're in the perfect spot in the town centre.
If you're looking for a good night out in Ipswich? Then stop by The Horse!! RnB nights, live DJ sets, Hip Hop, touring International and Aussie bands, Comedy and Country music…we've got your entertainment fix right here!
Inspired by our surroundings and local producers, our Grillhouse menu boasts dishes including fresh seafood, succulent steaks, wholesome pastas and next level pub classics you know and love.
If you're after a quick drink with mates, grab a seat in our Sports Bar. Your pick from our extensive range of ice cold beer and cider on tap or our wine and spirit lists. Our Sports Bar offeres a wide selection of sports including UFC, every PPV, Fight Night, free and live here at your local.
Whether you're catching up with family for a meal in our Grillhouse or stopping in for a drink with your mates, The Racehorse Hotel is the perfect place for any occasion.