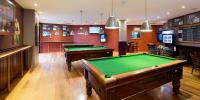 South east of Melbourne is Stamford Inn, an institution that's been keeping locals happy with a drink, delicious food and live entertainment.
For years we've broadcast all the live sports action that you know and love — footy, soccer, rugby, cricket; you name it, we've got it showing right here on the big screen. Just pop into our Sports Bar and watch it live and loud.
Here at the Stamford Inn we're also dedicated to showcasing live and local entertainment. For years we've seen local musical acts grace our stage, as well as comedians and anything in between. Check on our website for all the latest events showing, and pop in for a good time.
Whether you're coming for a drink or watching the latest gig, you're sure to enjoy your time at the Stamford Inn. Head in here to your local soon.