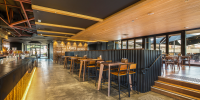 Travel down the coastline and you'll find The Cheeky Squire, we've been serving locals for years, and we're a central pillar in the local community of Frankston and the coast.
Our Bar is perfect for catching the game, with a number of TV screens you'll be able to catch all the action with regular faces serving you behind the bar. We wear our Official Home of UFC, bringing every PPV and Fight Night to you live, loud and free.
You'll feel right at home at the Cheeky Squire.