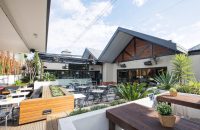 Sitting in the heart of Golden Grove is The Village Tavern, a local icon that's been sitting tall on The Golden Way for decades.
A 10 minute drive from the Adelaide CBD, we're in an excellent position for when you want to head north from the city.
Whether you're after a beer with your mates, you're stopping in for dinner with your family, or if you're looking to celebrate an event, The Village Tavern is the place to be.
Our menu boasts fresh ingredients and dishes inspired by our local suppliers and surrounding suburbs. You'll find succulent steaks, fresh seafood, healthy salads and pub favourites taken next level.