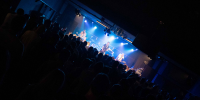 The Wintersun is one of WA's long running Live Entertainment Venues with a rich history going back decades. Five hours North of Perth by car, we provide a stepping stone for the many Aussie acts wanting to play in front of their fans in locations all across Australia. Located a stone's throw from Sunset Beach and the nearby town of Geraldton, check out what's happening next time you're up this way.
We believe in quality food and friendly service; it's at the core of what we do and how we operate. We're the perfect place for families to meet for an overdue long lunch or for mates to catch up over a beer and to watch the game. We're also an Official Home of UFC venue, meaning we air all the big-ticket PPV and Fight Nights live, loud and free.
Our Bistro has something for everyone, including fresh seafood, steaks, pastas, salads and all the pub classics you know and love. We have a dedicated menu for our youngest guests to keep everyone happy, plus a delicious and affordable seniors menu.