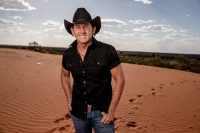 Join Lee Kernaghan to bring in the New Year and say goodbye to 2020 at the Hamilton Hotel in Brisbane this New Years Eve.
For the first time ever, Lee will perform to the public in a one man show that will take you on a musical journey through the highs, the lows and the hits of what has been a remarkable career. Lee will take to the stage for an intimate, up close and personal concert as a part of Live at Your Locals brand new series of shows, "Social Sessions", that feature fine food and a unique live music experience.
Songs like The Outback Club, Boys From The Bush, Hat Town, She's My Ute and Australian Boy are now modern day anthems for a generation of Australian's living and working on the land.Lee has sold over two million albums in Australia with releases including Outback Club, Three Chain Road,, 1959, Hat Town, Rules Of The Road, Electric Rodeo, New Bush, Ultimate Hits, Spirit Of The Bush, Planet Country, Beautiful Noise, Spirit Of The Anzacs, 25th Anniversary Album, Backroad Nation, all achieving gold, platinum or multi-platinum status. Lee is a four-time ARIA award winning artist and in 2015 he was presented with the Australian Record Industry Award for Outstanding Achievement. In 2017 Lee was named alongside the all-time greats of Australian Country Music with his inclusion into the Australian Country Music Roll Of Renown for his lasting and significant contribution to country music, and in 2018 he was inducted into into the CMC Hall of Fame. Lee also received the CMC/ARIA Award for Highest Selling Australian Album of 2018 for his 25th Anniversary Album.Lee has achieved a staggering 39 #1 chart hit songs over his career and has been awarded 38 Golden Guitars. He has been named Hit Maker of the Decade twice, in 2001 and 2011. This accolade is in recognition of Lee having more chart hits in Australia than any other country music artist in the world.
After the trials and tribulations we have all experienced in 2020 this event will be the perfect way to join together with friends and experience some great food and drinks that will be specially prepared and chosen for the night. Dinner will be followed by a Lee Kernaghan career first – his first ever solo public event. What a way to bring in 2021 – the new year full of hopes, dreams and change for the better for all Australians.
Thursday 31st December 2020 – Hamilton Hotel – https://bit.ly/3nwYkND