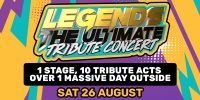 Hang on Brisbane! Are you ready for 10 Huge Tribute acts over 1 Massive day? Well, save that date in your calendars and get ready to party.
The Hamilton Hotel is proud to present our 3rd edition of Legends – The Ultimate Tribute Concert on Saturday 26th August. Some of the best and most popular tributes going around all lined up for one action packed day of hit after hit. Once again we're offering the option of a ticket to the Legends Beer Garden available for a small number of punters, providing an oasis in the midst of the party – but you'll have to get in quick for these tickets. Don't despair if you can't snag one of them because we're sorting food trucks to tempt the taste buds, bars to keep you refreshed and some break out zones for respite when you need it.
In our 2023 edition we are stoked to feature Powderstreet – Australian Powderfinger Show, Blink 182 and Greenday Experience and Mr Brightside – The Killers Experience. The day is set to get hot once Unlimited Chili Peppers hits the stage, followed by killer sets from Raise Your Glass – The Pink vs Gaga Show, No Doubt about Gwen and ALIVE- The Pearl Jam Show.
Rounding out a mammoth line up of acts are The Live Experience and Rock this Country – The Shania Twain Show
With a line up featuring so many tributes to some of the most beloved bands of the 90's and beyond , we know you'll have an epic experience!
Sort your mates out and prepare for a TRIBUTE OVERLOAD!