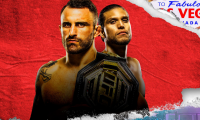 Did you hear? Our very own Aussie UFC champion, Alexander Volkanovski (aka "The Great") is defending his featherweight belt in the upcoming UFC 266 bout this September. He'll put his title on the line as he faces #2 ranked Brian Ortega.
Our undefeated champion has beat the likes of Max Holloway, Jose Aldo and Chad Mendes. No doubt he looks to seal the deal and prove he's still champion. Meanwhile, Ortega is on his tail. Along with impressive wins against Frankie Edgar and Cub Swanson, he recently defeated Chan Sung Jung which sent him straight to the title match.
Will our Volkanovski still be champ? There's only one way to find out, and what better way to catch all the action at the local pub, here's why:
Aussie, Aussie, Aussie, oi, oi, oi!
Volkanovski is home grown and that says it all. Go 'Straya! Nothing beats that moment of cheering on a local like a proud fist-pumping parent on the sidelines. It's a no brainer.
He grew up in NSW's Shellharbour region with a love for sport (which Aussie doesn't?), where he pursued rugby league professionally then jumped into mixed martial arts. It's been said that as a teen he would hire UFC VHS tapes from Blockbuster as well as purchase UFC pay per views — he was hooked.
Since then Volkanovski has fought his way up the ranks to become featherweight champion, defeating the guns of the division, including Max Holloway (who he beat twice), Jose Aldo and Chad Mendes. He's currently undefeated at nine straight UFC wins.
Entering this fight against Ortega, Volkanovski is confident he'll win. He recently told MMA Junkie,
"I want to go out there and obviously I'm gonna go out there and win, but at the same time, I want to do it in a wild fashion. I want to go out there and really send a statement. I want people leaving that arena going, 'Wow, how good was that,' absolutely blown away by what I went and done in there."

How can we not support our own champ?
Big screens for big fights.

Nothing's more exciting than a big title fight like this one.The fighters are pumped on adrenaline, it's raw, loud, tense and exciting all at the same time.

When it's a big match, it's definitely worth watching at the local — especially when they've got the big screens and surround sound to show for it (we know it). No-one wants to watch a big fight on a small screen with average sound.
At the local pub each fighting moment can be felt through the big screen. Every move caught on replay, every bit of commentary, every ooooo and ahhhhh. Even better, it's all streamed in real time, live and loud so no bit of action is missed. It's like we're all right there.

The local's got the best seats to the fight.

Sometimes watching at home just ain't the same. The volume can't be turned up full blast in case the neighbours complain, hosting mates over can be a headache, or having PPV is just not worth it.

Enter the trusty local pub. All of the above is no longer an issue. No PPV fees, no annoying neighbours and hosting duties are gone.
Just pop right in, bag yourself and your mates the best free seats to the screen (there's plenty), settle in for the fight and cheer your heart out. Simple.
The vibe is better at the local pub.

There's no denying that the local pub has got a buzz about it when it comes to a solid match. Being with mates, cheering on your favourite fighter with other fans (or heckling them even), and enjoying ice cold beers or match day nibbles is all part of the experience at the local.
We can't forget the keen fans cursing at the screen, the in depth discussions like we're all expert commentators, and celebrations or commiserations for both sides. Where else can we get this feeling?
It's in our blood.

We all know that the best place to watch the match (aside from actually being there) is the pub. Since forever we've called on our mates to meet at the local pub that it now has a nickname or code word.

We automatically know that whenever it's game day, our favourite pub will be there to show the fight, the grand final or every live sporting event in between. It's become our trusty mate who knows our usual drink or feed, which team we support and when we'll be back next.