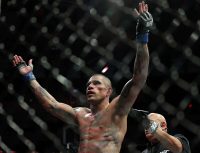 So there we have it, the final line up of UFC 295 has been confirmed. If you're like us, not sure what to expect from the Jon Jones and Stipe Miocic lacking main card, fret no more. We've taken a look at Jiří Procházka and Alex Pereira ahead of the 12th of November fight.
Whether you care about their history, or you're just here to get some fun facts to impress your mates – either way, we've got what you need right here.
With the light heavyweight title on the line, we are expecting an all out-war in the Octagon. Two former champions, looking to reclaim their chance at greatness. We'll be soaking up every minute, right in front of the screen at our local sports bar.
So, who is Jiří Procházka?
Hailing from the Czech Republic, Jiri Prochazka is no stranger to the UFC. At the prime age of 31, Procházka has been working his way to the impressive record of 29-3-1 for many years, the one loss in 2015 at the hands of Muhammed Lawal.
But, we've been watching him rise up the ranks for quite a while now. Who can forget the moment he defeated Glover Teixeira in UFC 275 to take the light heavyweight title in mid-2022? Not us, the sports bar went wild (and so did we).
Come November, a significant shoulder injury caused Procházka to vacate the title in order to step away for a period of time to recover. In the meantime, at UFC 282 in December, Jan Blachowicz took on Magomed Ankalaev for the vacant championship. They battled it out, but couldn't settle the score, arriving at a draw, with the belt still unclaimed.
Now, Procházka has the chance to take back what he believes is rightfully his. Can he do it?
Who is Alex Pereira?
Hailing from Brazil, Alex Pereira is a recognisable name in the UFC. At 8-2-0 in his career, don't let the smaller fight number fool you, he's been around for years, just as a professional kickboxer.
Quickly rising up the ranks, Pereira shocked the world when he took advantage of his title shot against Israel Adesanya at UFC 281 in November 2022. Taking the middleweight title from the legend, not many could believe what they were seeing, including us, where we sat in silence with our mouths open once the belt was on Pereira.
But, that didn't last too long, with Adesanya getting his revenge at UFC 287, stripping Pereira of the middleweight title. Making the decision to move to the light heavyweight division, Pereira made his first foray in the new weight class against Jan Blachowicz, and continued to impress as he took the win via decision.
Now, he's ready to reclaim a title, and return to the very top of a division (even if it's a different one).
What else should I know about UFC 295?
It's not just Procházka vs Pereira to pay attention to, Sergei Pavlovich and Tom Aspinall will battle it out in the co-main for the heavyweight interim title, a massive fight that will set up the next title fight for the official title.
What is the best place to watch? We hear you ask. Your local, where you won't miss a minute of the action, surrounded by like minded UFC fans.
Find out where to watch UFC 295 near you, here.
Find out what other UFC fights are coming up here.