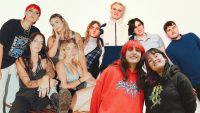 Has anyone else noticed the abundance of band names containing the word "teen"/"teenage" that have materialised of late? We certainly have! Teen Jesus & The Jean Teasers, Teenage Joans, Teenage Dads… So what happens when the members grow up and their band name no longer matches their actual ages? Doesn't matter, obviously, since Teenage Fanclub are still massive. Oh, and this list just wouldn't be complete without mentioning the OG boy band, The Teenagers, as well.
TEEN JESUS & THE JEAN TEASERS
As well as being a clear contender for Best Band Name Ever, Teen Jesus & The Jean Teasers also boast a super-cute origin story: aged 15, they formed a band the day after a sleepover during which they watched School Of Rock, which also inspired guitarist Scarlett MaKahey to later purchase a Gibson SG (Jack Black's instrument of choice in the film).
The Canberra quartet's debut record I Love You drops next month and contains the raunchy standout track Lights Out ("Touch me/ I want you only with the lights out"), which is a perfect vehicle for vocalist Anna Ryan's belting. The band actually moved into producer Oscar Dawson's home in the seaside town of Rye to create I Love You, collaboratively, over the course of a few months.
Did you know? Earlier this year, McKahey sadly announced she'd be stepping away from the touring aspect of Teen Jesus And The Jean Teasers due to ongoing struggles with chronic illness (she's been diagnosed with postural orthostatic tachycardia syndrome, or POTS). McKahey is still a fully fledged member of Teen Jesus And The Jean Teasers, however, and will continue to play guitar on all their recordings.
TEENAGE JOANS
Guess what? Neither member of Teenage Joans is named Joan. The rockin' Adelaide duo is actually composed of lead vocalist/drummer Tahlia Borg and vocalist/guitarist Cahli Blakers.
The pair were introduced by a mutual friend, with Tahlia recalling during an interview: "I received a message from Cahli asking if I wanted to play drums with her and was so confused 'cause I was like 'who's this person?' I stalked her Instagram for a bit and she looked super cool." They became instant mates from their first meeting, which was supposed to be a jam sesh but ended up being 11 continuous hours of hanging out and bonding over being outcasts at school. Then they invented nicknames for each other, "doofus" and "chief", and the rest is history.
This garage-rock outfit rose to prominence when their second single, Three Leaf Clover, took out Triple J's 2020 Unearthed High competition.
Teenage Joans also have their debut album, The Rot That Grows Inside My Chest, all set for release next month.
TEENAGE DADS
This quartet from Mornington Peninsula met in high school, making music during study breaks and lunch times when it was raining and playing four-square wasn't an option, apparently. Their band name was suggested by an ex-band member after it was rejected by his other band (LOL). They didn't really expect their band to take off, ya know? Also, none of the band members are actual teenage dads.
Teenage Dads, who typically write and produce all their own material, have supported Lime Cordiale and Spacey Jane throughout their auspicious career to date, and were hand-selected by both these bands to warm up their stages.
Andrew Stone, Head of Chugg Music (the band's label), has shared: "Think of them as a mix between Phoenix and The Strokes with some of the flamboyance of Talking Heads."
TEENAGE FANCLUB
These Scottish alternative rockers' teenage years are a distant memory (which I guess is the risk you take by selecting a name that ain't evergreen?). In fact, they've been around since last century, having formed in 1989. Liam Gallagher once honoured Teenage Fanclub (aka The Fannies) with the title of "second best band in the world" (behind his band Oasis, obvs). Even if you don't know much about Teenage Fanclub, you might be familiar with their memorable, goofy cover of Madonna's Like A Virgin.
But if you are a mad Teenage Fanclub fan, they're actually touring Australia in March, 2024 – off the back of the release of their latest and 11th studio album, Nothing Lasts Forever – so be sure to grab your tickets!
Did you know? In 1991, Teenage Fanclub's album Bandwagonesque beat out Nirvana's Nevermind to top Spin magazine's end-of-year best-of poll. The Fannies also recorded a cover of About A Girl By Nirvana.
THE TEENAGERS
Remember this kick-ass doo-wop hit from the '50s? The Teenagers, who were only together as a band for about 18 months, are widely recognised as "the first boy band in rock". The group's 13-year-old lead singer Frankie Lymon has also been credited for popularising falsetto lead vocals in pop, R&B and rock. In 1993, The Teenagers were inducted into the Rock And Roll Hall of Fame and have a star on the Hollywood Walk Of Fame as well.
The story goes that when Frankie entered a talent show at Edward W. Stitt Junior High School, then aged 12 and playing bongos in his brother's mambo band, he clocked The Teenagers (then called The Coupe De Villes) who were also competing. Frankie ended up jamming with them that day and they quickly realised his falsetto would perfectly complement their vocal group.
This collection of schoolmates and neighbours from New York's Washington Heights neighbourhood started off by practising popular R&B songs in the hallways of their respective apartment buildings and, later, they'd sometimes practise on the corner near the grocery store in which Frankie worked. While practising in one of their apartment blocks, a tenant offered them some love letters a girlfriend had given him to hopefully inspire them to write an original song. They penned Why Do Fools Fall In Love (originally titled 'Why Do Birds Sing So Gay?'), which went on to become the band's first and biggest smash hit.
Fun fact: Members of The Teenagers went to the same New York public school as The Cadillacs (Speedo, Crying In The Chapel etc.).
Did you know? A far cry from The Teenagers' squeaky-clean image, Harlem native Frankie Lymon had been a pimp aged just ten. Then after Frankie's voice broke, he lost his falsetto and spiralled into drug abuse, becoming a fully fledged heroin addict and sadly dying in his grandmother's apartment at the age of 25.