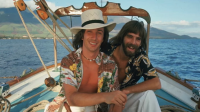 Glossy production, breezy vocals, buoyant rhythms – these are all characteristics of the grossly underrated, feel good sub-genre of soft rock we love to call yacht rock.
More an overall aesthetic than a mere genre, yacht rock is renowned for its distinct lack of daring (and occasional lyrics about "piña coladas and getting caught in the rain"). Although magnificently mellow, yacht rock – which sprang outta Southern California's studio scene – is also typically categorised by complex musicianship thanks to the virtuosic quality of the veteran session musicians who regularly appear in the liner notes.
For the generation that was raised on yacht rock songs blasting from their parents' car stezzas/portable transistor radios – stuck on the AM dial, obviously – this genre's nostalgic allure is strong. 'Carn, just admit it – you totally rate yacht rock! No need to be embarrassed, there's too much fun to be had to relegate this oft-misunderstood genre to the guilty-pleasure pile.
If you're still unsure about what qualifies as yacht rock, ask yourself whether or not listening to a particular song makes you feel like you're relaxing on the deck of a luxury yacht that's set sail on a warm tropical expanse of ocean. While a soft breeze caresses your Farrah Fawcett-inspired, feathered bangs (irrespective of gender), all that's left to do is check your reflection in the captain's mirrored aviators as you sip on a Tequila Sunrise and embrace feeling totally blissed-out.
Hot tip: if you plan on attending a show that celebrates yacht rock (dates below), don't be the only goose not wearing a captain's hat! Actually, we recommend you take fashion inspo from Client Liaison, or one of their backing dancers, and that way we can guarantee that you'll fit right in.
Words by Bryget Chrisfield
Who doesn't wanna be transported onto a yacht?
Christopher Cross's anthemic, Grammy-winning Sailing (1979) has gotta be the best example of yacht rock going around, since the song is literally about sailing. Nautical themes and seafaring lyrical nods automatically score bonus points for stoking our imaginations and transporting us to the high seas. Close your eyes and let this song's pensive, tinkling piano-led instrumental refrain transport you directly to the top deck of a super yacht. Those chimes are used to great effect as well. Also be sure to check out Cross's Ride Like The Wind – it's a banger.
Yacht rock existed before 'Yacht Rock'
The term yacht rock was coined by a 2005 parody web series of the same name: a fictional take on the lives of actual yacht rock stars – such as Michael McDonald (arguably The King Of Yacht Rock), The Doobie Brothers, Daryl Hall & John Oates and Kenny Loggins – that basically portrays them as group of buddies/rivals lounging around and recording in LA's Marina del Rey area. Come again? How can this be? Didn't rock songs rule the airwaves from the mid-'70s to the mid-'80s? Yep, we agree – how bizarre! But until 'Yacht Rock' the series aired via the LA-based website, Channel 101, this type of music simply fell under the soft rock umbrella.
The web series turned fresh ears onto yacht rock
Once 'Yacht Rock' achieved cult status, many of the artists whose songs featured in this webseries experienced a resurgence in popularity, with new generations of fans discovering these smoother-than-smooth sounds for the very first time and immediately surfing the web (sorry, couldn't resist) to discover more yacht rock treasures.
Two yacht rock titans unite
Yacht rock can be traced back to roughly 1976, when Michael McDonald joined The Doobie Brothers and Kenny Loggins split up with his songwriting partner Jim Messina to have a crack at a solo career. After McDonald co-wrote Loggins' This Is It, these two yacht-rock titans co-wrote the smash hit What A Fool Believes – one of the finest examples of the genre. Also, did you know that McDonald cut his teeth singing BVs for Steely Dan?
Steely Dan named their band after a dildo
Entire albums from Steely Dan's back catalog could be considered yacht rock staples, but did you know that the band is named after a steam-powered strap-on dildo (Steely Dan III from Yokohama) that's mentioned in William S. Burroughs' psychotropic series of junkie vignettes, 'Naked Lunch'?
'Euphoria' synced a yacht rock classic
It actually makes us rather excited to think of all the young, impressionable kiddies watching Zendaya's edgy teen drama series 'Euphoria' and therefore copping an earful of Gerry Rafferty's shimmering yacht rock classic, Right Down The Line, on the reg – they would've Shazamed the shit out of it, then gone on a deep dive to uncover more cruisy treasures, for sure! Right Down The Line was also used in the 'Euphoria' Season Two trailer.
Sailing from the East Coast
Yacht rock was also referred to as "the west coast sound", because so much of the music was produced in LA and surrounds. However, yacht rock poster boys Daryl Hall and John Oates remained firmly planted on the East Coast, mostly residing in their hometown of Philadelphia.
Toto's song not actually about Rosanna Arquette
It's a common misconception that this deadset contender for Best Pre-Chorus Ever (the bit that goes: "Not quite a year, since you went away…") was inspired by Rosanna Arquette, who was dating Toto's keyboard player Steve Porcaro at the time. David Paich, who wrote this song, has since said the song is based on numerous girls he'd known over the years. But Toto decided to own the Arquette myth for a spell regardless – just for the heck of it. Many would probably list Africa as their top Toto song – even kids know the lyrics. (Was it used in the 'Madagascar' franchise or something?) Nevertheless, we strongly recommend you give Rosanna a few spins. Also, some of Africa's verses are virtually impossible to sing along with (especially that "…sure as Kilimanjaro rises…" part!).
Fun fact: Weezer's 2018, fan-requested cover of Africa charted well, which sparked renewed interest in Toto.
Yacht rock family connections
England Dan (aka Dan Seals) – one half of the Texan duo, England Dan & John Ford Coley, responsible for the romantic yacht rock gem, I'd Really Love to See You Tonight – is the brother of Jim Seals of Seals & Croft fame (see: Summer Breeze).
Yacht rock or 'nyacht' rock?
Soft rock songs that (ahem!) miss the boat or are considered not smooth enough to be deemed yacht rock, are often hilariously referred to as 'nyacht' rock. There's even a website where songs are rated on the 'Yachtski' scale, with only songs coring above 50 'qualifying' as yacht rock.
From yacht rock to soap
Did you know: Player's bassist Ronn Moss went on to star in The Bold And The Beautiful as the dynamic fashion magnate, Ridge Forrester, from 1987 to 2012.
Yacht Rock Revival Shows
Yacht Rock Revival are paying tribute to the definition of 70's light rock. If you've ever heard The Doobie Brothers fronted by Michael McDonald doing "What A Fool Believes", that's Yacht Rock!
Saturday, October 1 – Chelsea Heights Hotel, Melbourne VIC
Tickets here
Friday, October 7 – Stamford Inn, Melbourne VIC
Tickets here
Friday, October 14 – Matthew Flinders Hotel, Melbourne VIC
Tickets here
Friday, November 11 – Skyways Hotel, Melbourne VIC
Tickets here