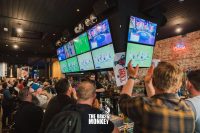 Can you feel that? The air is crisper, the smell of deep heat is doing the rounds, pre-season is done and the sports bars are electric.
The way we feel about footy being back is almost romantic, there is (to put it simply) nothing quite like kicking off the 2023 AFL season in March at the pub.
Geelong fans have held 2022 over you like a dark cloud, Sydney Swan fans are done with pretending like last season's ending didn't happen, and Bombers fans… well, there's not too much we can say to ease the pain of the red and black diehards (maybe next year?), have a cold one on us.
Alas, a new season marks new beginnings, new players and new reasons to come to the pub.
We've made our way from sports bar to sports bar, from pints to tinnies, stouts to brewski's, all to bring you our very top picks for the best places to watch this season of AFL. Let me tell you, it's a hard job.
Sunnybank Hotel, QLD
If you're a Brisbane Lions supporter, we might suggest you pop in for a drink here, you'll be in familiar territory (Gold Coast supporters are also welcome, just for the record).
The Sunnybank is one of those pubs that feels like it's seen some things, and with a mountain of history behind it, you can be sure that's the case.
Sitting within close proximity to the old QE2 Stadium, it's an institution amongst Queenslanders. Everyone has a beer at the Sunny, ask Johnno, or Collo, or Thommo, you'll get the same answer.
With three massive HD projectors, you won't be in danger of a bad view. Whether you're there for a Friday night clash of the titans, or a Sunday afternoon top eight match up, this is the pub for you (trust us).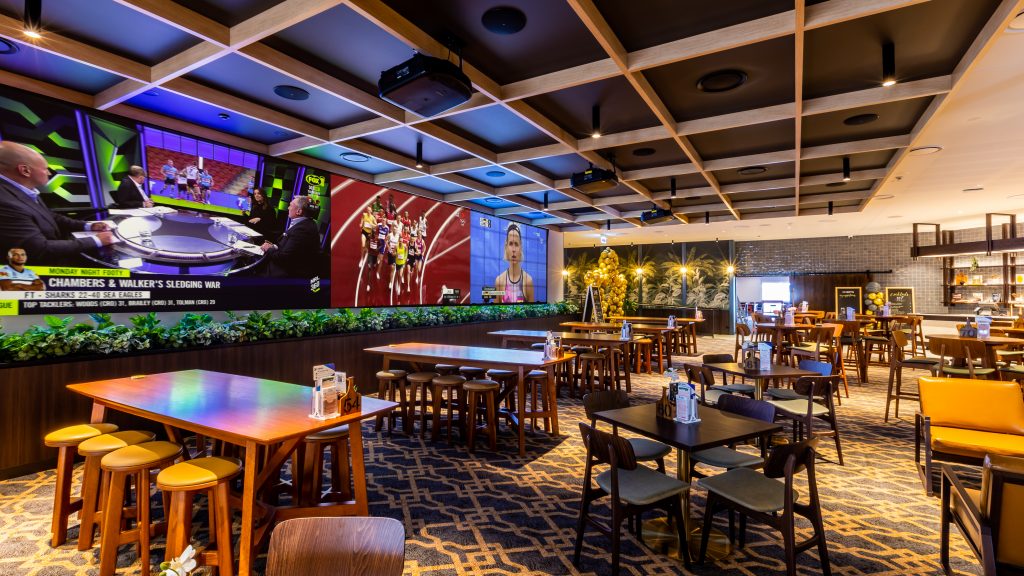 Brass Monkey Hotel, WA
A sports bar to end all sports bars, don't let the American vibe of the Patriots Bar throw you, this is as good a bar as any to catch the best of our great Australian game.
Standing tall on the corner of James and Williams Streets in the heart of Northbridge, the Brass Monkey is a Perth icon.
Don't ask us, ask the locals. It's the perfect set up for you and your mates, and once the games on you'll be surrounded by like-minded folks, who want nothing more than to spend a few hours watching some good footy.
Fremantle fans gave this place a good run during the finals season in 2022, where their beloved boys in purple gave all they could. Expect the sports bar to be packed, and if the sun is out (which it usually is out west), the beer garden to be full too.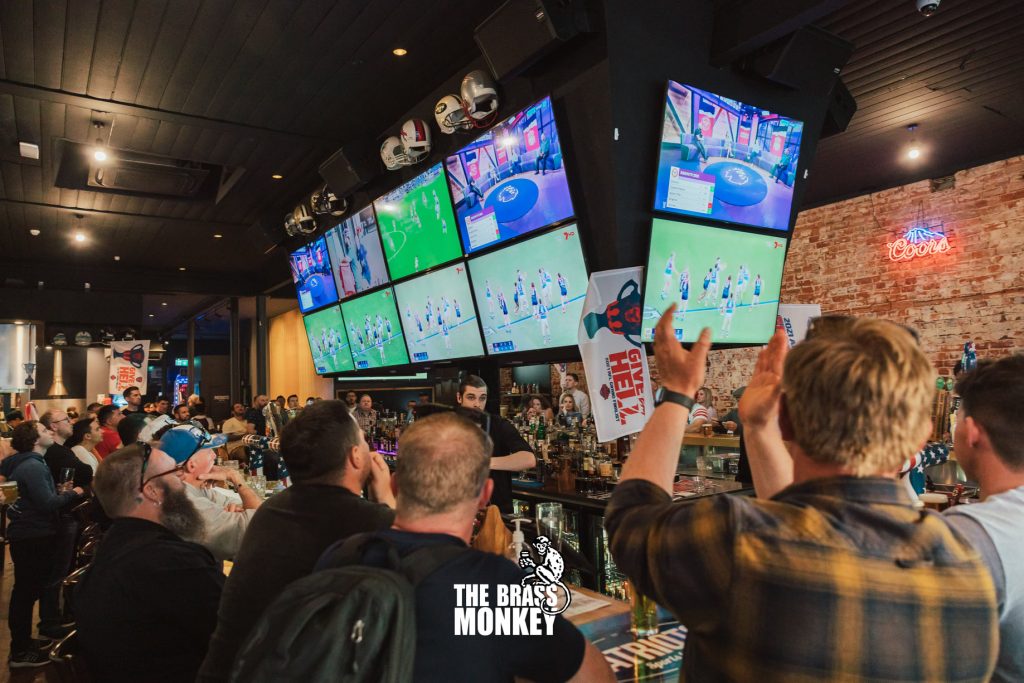 The Village Tavern, SA
Let's keep it real, the 2022 AFL season didn't go the way for the teams that call Adelaide home. There were positives we can take away, but to enter a finals series without a team representing the great state, it's a sore spot. 
Fret no more South Australians, for a new dawn is upon us (and by dawn, we just mean a really great sports bar). The Village Hotel was made for you and your mates, long bench seating, ice cold beer available on tap thanks to the outdoor bar, and big screens to catch the action on. This is something to look forward to come the pointy end of the year.
If the outdoor thing isn't for you, the sports bar here is just as good. As the team behind the bar says, we believe in good beer that is always cold, and a good game that's always on. If that doesn't convince you, we don't know what will.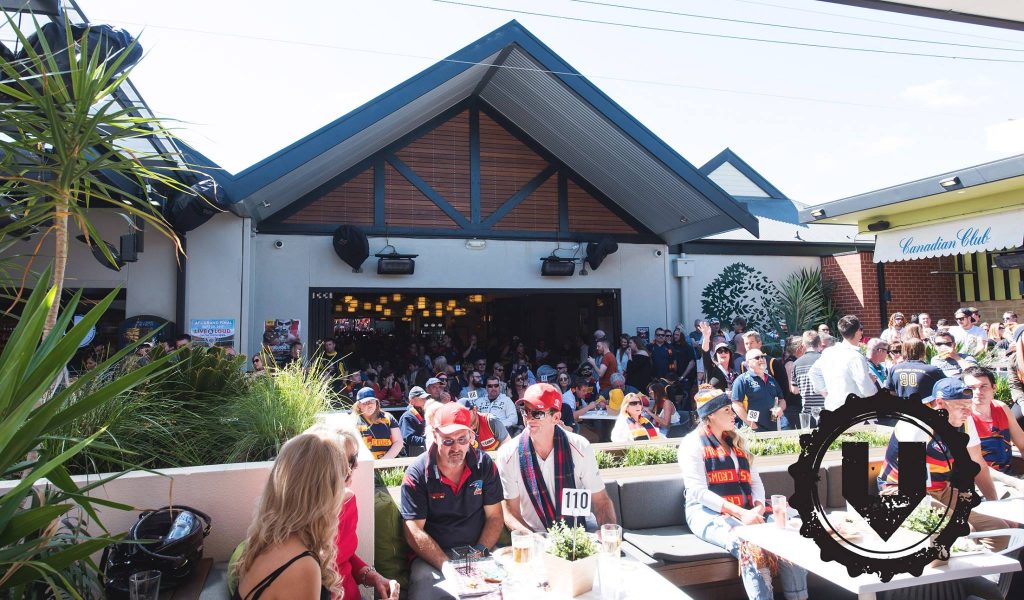 Manhattan Hotel, VIC
A beloved institution of Melbourne's South East, if you're talking about the Manhattan, best believe there will be a local within earshot that could tell you about a time or two they've had there.
If there's one place that you should see for yourself, it's The Back Bar. Mahogany couches, bench seating, and a bar that runs from end to end, it may just be the touch of sophistication you're looking for.
A giant projected screen graces the space, making sure you can see every disposal, tackle and goal celebration. The real winner here is The Back Bar menu, just about every pub favourite you could think of, done well, perfect for snacking when you're nervously watching a close result roll out.
Take it from us, this one is worth a stop in, and a cheeky pint while you're here.
Forest Hotel, NSW
How about this one? A sports lovers paradise, the sports bar at Forest Hotel might be one of the fanciest we've seen, but bare with us, it still does everything your regular sports bar should.
With screens across each wall, including a gigantic projector in the beer garden, you'll have your work cut out trying to choose where to sit yourself (we'll suggest heading outdoors on a good day).A central bar makes it easy to grab a drink when you need one, and the 46 taps makes sure they've got something for everyone (even the mate who claims he can only drink craft).
The atmosphere here is electric, you should've seen it buzzing during the 2022 Grand Final (well at least, before the Grand Final started… sorry again Swans fans). Check it out for yourself if you find yourself in the area.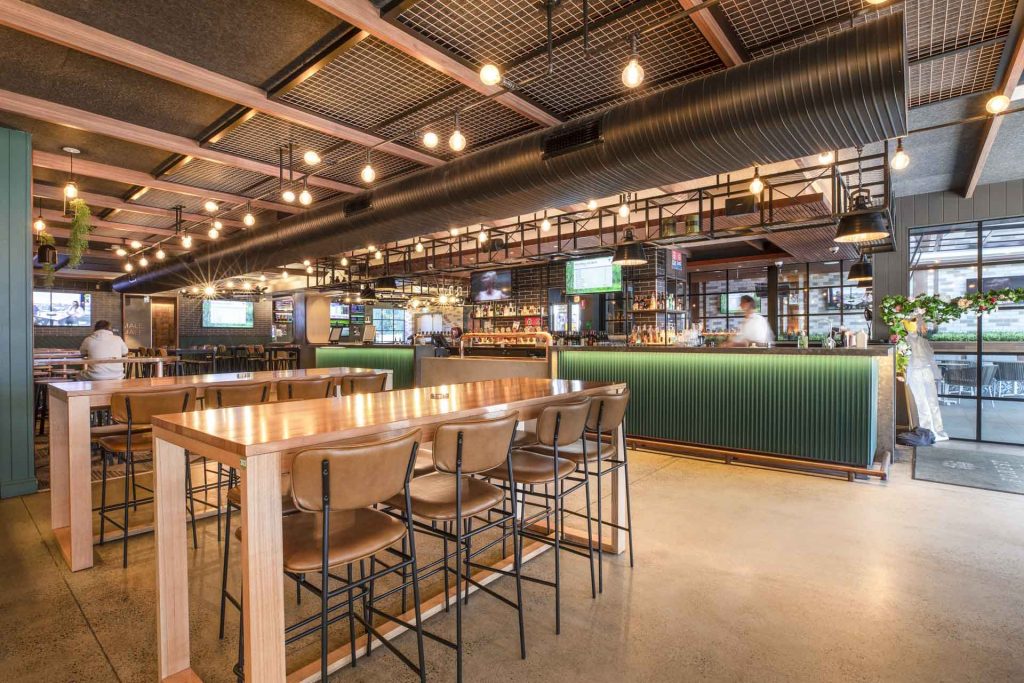 Five picks to see you through the AFL season, for people in every state. There's one thing for sure, the pub really is the best place to watch the game.
Where can I watch the footy near me? Find your nearest pub right here.
Find the full AFL schedule here.