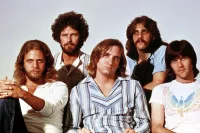 Nostalgic, laidback and cruisy – what's not to love about the Eagles' astonishing back catalogue?
Before forming Eagles, the band's all-singing founding members – guitarist Glenn Frey, drummer Don Henley, guitarist Bernie Leadon and bassist Randy Meisner – were Linda Ronstadt's musos of choice: Frey and Henley toured as part of Ronstadt's backing band, and all four dudes played on her self-titled third solo album. After signing with David Geffen's new label, Asylum Records, Eagles enjoyed immediate success with 1972's eponymous debut album, going on to build one helluva majestic career resume: five #1 singles, six #1 albums, six Grammys and five American Music Awards.
Although Frey and Henley were the primary Eagles songwriters, Leadon and Felder also chipped in on occasion, and the band's tunes make a perfect soundtrack for coastal road trips, caravan holidays or sipping cocktails by the pool. Read on to discover why we reckon the below five Eagles songs are of particularly importance within their expansive discography.
Witchy Woman (1972)
Written by: Don Henley and Bernie Leadon
Desperado (1973)
Written by: Glenn Frey and Don Henley
One of These Nights (1975)
Written by: Don Henley and Glenn Frey
Hotel California (1977)
Written by: Don Felder, Glenn Frey and Don Henley
It's Your World Now (2007)
Written by: Glenn Frey and Jack Tempchin