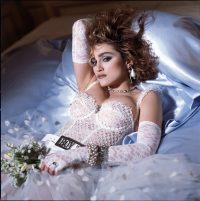 Without Madonna, there would be no Lady Gaga, Nicki Minaj, Billie Eilish, Spice Girls or Beyoncé. She's never sold out, is still completely in control of everything she wants to achieve and has always been a vanguard of diversity. "People say that I'm so controversial, but I think the most controversial thing I have ever done is to stick around," Madonna said during her acclaimed 2016 Billboard Woman Of The Year speech (more on that later), also acknowledging that – for female artists – "to age is a sin".
To this day, The Queen Of Pop dares to continue her reign atop the contemporary-pop throne, always while wearing killer heels and defying ageist stereotypes. While we wait (impatiently) for the Madonna-created Madonna biopic – which she's temporarily put on hold to prioritise The Celebration Tour (sadly no Australian dates have been announced yet) – here are 10 reasons why she truly rules:
Sex-positive role model goals
In 1978, a young Madonna took a cab to New York with $35 in her pocket and dreams to spare, before shaking up the music scene – with her bare midriff exposed (oo-er!) and zero-fucks-given attitude – to become the Queen Of Pop (and sex positivity). Right out of the gate, Madonna was sexually unashamed in a way that we were accustomed to celebrating in male singers (pretty much since Elvis), but females? Not so much.
However, Madonna oozed sexual desire from every pore while challenging the power dynamics of gender, sex, religion and race, all of which made her a hot topic of discussion in school yards, around the dinner table, in the media and even The Vatican.
That MTV Video Music Awards performance
Desperately Seeking selfies
During her first major movie role, 1985's Desperately Seeking Susan, we first clap eyes on Madonna's character, Susan, lying on a hotel room floor and taking Polaroids of herself. So – in a roundabout way – Madonna kinda invented selfies, right? As for Desperately Seeking Susan itself, we mainly remember the to-die-for cropped, military-style jacket – embroidered with a gold pyramid on the back – that Madonna's character wore.
Fun fact: In 2014, said jacket sold at auction for over $250,000.
Making a statement at Live Aid
Not long after Playboy and Penthouse published years-old nudes of her (taken by an ex-boyfriend), Madonna took the stage at Live Aid's US edition, held at JFK Stadium in 1985. Some punters reportedly booed and yelled out "slut" when Madonna appeared on stage, shouting for her to remove her coat. But Her Majesty made a joke of their shaming: "Nah, I ain't taking shit off today. They might hold it against me ten years from now."
Keeping Pepsi's millions
Catapulting vogueing into the mainstream
The controversial Blond Ambition tour
Pope John Paul II pronounced Madonna's Blond Ambition concert "one of the most satanic shows in the history of humanity" back in 1990 and, more than three decades later, it remains among the most controversial tours of all time. While performing Like A Virgin during the show, Madonna simulated masturbation on a bed. Toronto police threatened to arrest her for lewd and obscene behaviour if she performed this section of the show, but Madonna refused to alter it – now that's badass.
Madonna also recruited Jean Paul Gaultier to design all the Blond Ambition costumes and premiered her bullet-bra corset during this tour. Cone bras had been in Gaultier's collection since the early '80s, but Madonna gave this pointy item worldwide infamy. The pair continue to collaborate to this day and Gaultier has said of Madonna, "When you meet your idol, you can be disappointed. When I met her, I was not disappointed."
Having Sex on coffee tables
It's Britney, bitch! 
"I stand before you as a doormat…"