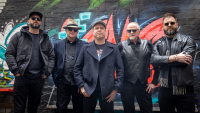 The one and only Jimmy Barnes has, quite rightly, acknowledged that The Angels "changed Australian music forever". The band rose to prominence during the golden years of Australian pub rock, touring relentlessly and delivering their hard-driving, no-frills boogie rock to fans far and wide. Career highpoints include six Top Ten-charting studio albums and their ARIA Hall of Fame induction (in 1998), but The Angels' chequered history is also littered with countless lineup changes (the guitar-slaying Brewster brothers, Rick and John, are the only remaining OG members), brotherly fallouts and even band members taking legal action against each other.
As one of Australia's best and longest-running bands approaches their 50th Anniversary (in 2024), we spotlight five songs that we reckon are of particular importance within The Angels' expansive discography.
Lineup update: The countdown is now on for The Angels' current frontman Dave Gleeson (The Screaming Jets) to hand the mic over to Nick Norton (who previously fronted a band called GangAwry before accepting The Angels drumming gig in 2011). Gleeso has fronted The Angels for 12 years and will do so for the last time at this year's Gympie Music Muster, in August, before (amicably) parting ways with the band to prioritise his family and other musical projects.
As The Angels prepare to embark on what promises to be an exciting new chapter, their lineup will be rounded out by the double-axe attack of Rick and John Brewster, bassist Sam Brewster – John's son, who joined this iconic Aussie rock band in 2012 – and, as luck would have it, another of John's sons, Tom, is a sick drummer! So Tom will replace Norton behind the kit.
#5 Under The Stone (2020)
Under The Stone – a searing slice of riff-driven rock and the group's first taste of new music in six years – dropped a whopping 44 years after The Angels' debut release.
Rick Brewster revealed that Under The Stone – the title track from The Angels' 2020 EP release – came to him in a dream: "I'd been messing around with a number of slower tunes and felt the urge to write a full-on riff-based track. It was one of those 'wake up in the middle of the night, I've got to record this riff before I forget it' episodes."
Sidenote: Norton contributed lead vocals on two of this EP's five tracks, Escape and Leaders Of Men.
#4 Mr Damage (1979)
This song was inspired in part by a serial headbanger, who was referred to as 'Brain Damage' and often frequented Blacktown's Comb & Cutter Hotel. Mr Damage appears on The Angels' third album, No Exit, with Rick Brewster describing his songwriting process in the accompanying liner notes: "After meeting 'Brain Damage' backstage, I drove home to Ashfield singing a verse melody all the way. I stayed up all night and finished the first draft of Mr Damage some time in the afternoon. I then played it to the guys in the dressing room that night at the Stagedoor Tavern."
Of recording this song, his brother John has since recalled, "Rick and I were probably affected by some other stuff at the time, we were singing violin parts and I remember saying to Rick, 'Wouldn't it be great if we could do Mr Damage with violins?' That was way back in 1979 and eventually that dream came true."
He's referencing the band's recent Symphony Of Angels shows, during which they presented fully orchestrated versions of their songs (including Mr Damage) backed by a symphony orchestra plus choir.
Did you know? Rick and John's dad was a principal cellist for the Adelaide Symphony Orchestra, their mum was a ballerina, grandma was an opera singer and Hooper Brewster-Jones, their grandfather, started the first ever symphony orchestra in South Australia. Of late, The Angels have taken to honouring Brewster-Jones by using the overture from one of his compositions, Australia Felix, as their intro tape.
#3 I Ain't The One (1978)
John Brewster, the band's guitarist, has singled out I Ain't The One as a "tipping point" in the band's evolution since it helped them find their sound. The story goes that The Angels were struggling financially and on the cusp of calling it a day when Brewster wrote this song. He'd just flown from Sydney to Adelaide to ask his old man for a loan and was sitting in his car after receiving a flat no when I Ain't The One popped into his head, in its entirety. "I showed it to the boys in the band and everyone went nuts," he recalled during an interview. "They went 'We found our sound'… We put I Ain't The One in the set and I Ain't The One changed it. Suddenly people came forward and they stood in front of the band and they started rocking out, and we realised we had something going on." The crowd's reaction to I Ain't The One encouraged The Angels to write more songs "that just grabbed people" (eg. Straight Jacket, Take A Long Line and Shadow Boxer).
#2 Take A Long Line (1978)
Axl Rose: "One of the main reasons this band [Guns N' Roses] got together was a song called Take A Long Line."
Take A Long Line was the second single release from The Angels' astonishingly good second record Face To Face, which remained in the albums chart for a whopping 79 weeks! In a 2018 interview, John Brewster revealed many of Take A Long Line's lyrics were inspired by characters his brother Rick – this song's primary songwriter – had encountered on the streets around Kings Cross in Sydney.
After hearing this album and seeing the band perform live at the legendary Bondi Lifesaver club, David Bowie invited The Angels to support him on his first Australian tour (1978). "Bowie was so giving……he insisted we be called 'special guests' rather than the support act," Neeson recalled during a 2007 interview. "He said we could have his lights and did we want to borrow his guitars? He showed how to treat a support band."

Did you know? Mick Ronson, Bowie's guitarist, later covered Take A Long Line, which appears on 1994's Heaven And Hull record.
#1 Am I Ever Gonna See Your Face Again (1976)
It's extremely hard to believe, but The Angels' debut single Am I Ever Gonna See Your Face Again, produced by Vanda & Young, was considered a failure at the time of release in 1976, when it stalled at #58 on the Kent Music Report singles chart.
Beginning its life as a slow, acoustic ballad, Doc Neeson penned this song's lyrics after hearing a friend describe his grief following the death of his girlfriend in a motorcycle accident.
"Am I ever gonna see your face again?"/ "NO WAY GET FUCKED, FUCK OFF!"
When a live version of Am I Ever… was released in 1988 – as the lead single from their Live Line double album, resplendent with the additional, audience-supplied expletive-laden chorus line – it fared much better, peaking at #11 on the singles chart.
Ever wondered about the origin story behind this song's now-legendary audience participation responding to Doc's titular question? Apparently a touring blue light disco DJ made a habit of turning down the volume and encouraging teen revellers to let off some steam through a series of f-bombs, news travelled fast on the bush telegraph and soon every crowd the band played in front of knew exactly what to do come the chorus.
Check out Dune Rats' rendition of Am I Ever Gonna See Your Face Again for triple j's Like A Version, featuring The Angels' own guitar bros, Rick and John, supplying additional guitar alongside many other guests/mates the Dunies' brought along:
Did you know? After similarities between The Angels' signature song and a Status Quo B-side, Lonely Night – main melody plus some lyrics ("I never thought I'd see or hear you again") – were noted, the two bands reached an agreement in lieu of a lawsuit to ensure Status Quo received royalties from Am I Ever Gonna See Your Face Again.