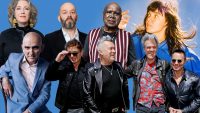 Nothing better than having a vivid brainburst of visual activity because you've been to the actual location a singer has immortalised through song. Lyrical landmarks and sharing of memories seeped deep into the land – where a song transports us is a huge part of its identity or DNA. We had a hoot compiling the below Top 5 location-specific Aussie classics list for your enjoyment/armchair travel. Any other contenders spring to mind?   
#5 Accidently [sic] Kelly Street – Frente!
The Kelly Street mentioned in the chorus of Melbourne band Frente!'s hit single actually refers to a street in Richmond called Kenny Street. The story goes that when bassist Tim O'Connor was moving, he mistakenly passed this new address on to his bandmates as Kelly Street. He later told them, "I'm going to write a song about the house," which prompted Frente!'s singer Angie Hart to suggest he call it 'Accidentally Kelly Street'.
When the labels for this single release were printed off with typos in the song's title, the band decided to go with it (hurting the brains of spelling nerds the world over, in the process). "The misspelling was deemed by some a genius stroke," Hart reflected during an interview. "Unfortunately, it was not intentional on my part, but I quietly took the credit for years."
You've just gotta admit Accidently Kelly Street is a mood-enhancing earworm. Good luck getting that chorus melody out of your head now!
Fun fact: The band's drummer Mark Picton actually plays everyone's fave daggy primary school instrument, the recorder, on this song.
Did you know? Frente!'s softly strummed acoustic cover of New Order's Bizarre Love Triangle (1994) hit #49 on Billboard's Hot 100 (US).
#4 Breakfast At Sweethearts – Cold Chisel
Of Cold Chisel's 1979 album of the same name, which spent 32 weeks in Australia's national charts, Don Walker (the band's keyboardist/primary songwriter) has said, "As a whole set of songs, it painted a picture of a certain time and a certain place which is very close to my heart. And in many ways that set of songs is quite personal to me rather than any of the other guys because they all moved out of the Cross within three weeks. It was a good time of my life."
Throughout the '70s and '80s, Sweethearts was a popular café in the heart of Sydney's King Cross.
"It had the reputation that when Nureyev was in Sydney, he would always have his coffee at Sweethearts and stuff like that," Walker shared in Michael Lawrence's book Cold Chisel: Wild Colonial Boys. "There was a beautiful middle-aged woman who used to serve coffee there and never said anything and she was reputed to be the girlfriend of quite a dangerous guy."
Looking for the Sweethearts site? Apparently it's now a Maccas.
#3 Depreston – Courtney Barnett
Courtney Barnett's wordplay is genius on the reg and her reference to the northern Melbourne suburb of Preston in this song's title, Depreston, speaks volumes about its depressing theme: the financial impossibility of buying a house. There's also a city called Preston a few hours outside London, which can't have hurt this song's relatability in the UK, either.
"You say we should look out further/ I guess it wouldn't hurt us/ We don't have to be around all these coffee shops," Courtney sings during her catchy rant, which basically speaks to disheartened house hunters considering taking out million-dollar loans in fragile economies. She actually penned this one while helping a buddy look for a home. And through detailed sentimental lyrical observations ("pressed metal ceilings", "hand rail in the shower", "those canisters for coffee, tea and flour/ And a photo of a young man in a van in Vietnam"), Barnett also draws the home's previous residents into focus as we ponder the cherished memories made inside those walls that will probably be bulldozed shortly.
Altogether now: "If you've got a/ Spare half a million/ You could knock it down/ And start rebuilding…" – such poetic, lingering lyricism and thrillingly unexpected rhymes!
#2 Charcoal Lane – Archie Roach
Having spent much time drinking and yarning at this location in a street behind a factory, Uncle Archie (Rest In Power) immortalised Charcoal Lane – a hub for Aboriginal people who had left missions from the '60s through to the '80s, situated in the inner-city Melbourne suburb of Fitzroy – through song. This much-missed trailblazing Gunditjmara (Kirrae Whurrong/Djab Wurrung), Bundjalung elder, songman and truth-teller felt drawn to Charcoal Lane and this superb song – the title track from his Gold-certified, multiple-ARIA-Award-winning debut solo album (1990) – is an autobiographical historical snapshot: "Have a reviver in Charcoal Lane/ I'm a survivor of Charcoal Lane."  
Thanks to all the specific geographical references scattered throughout Charcoal Lane the album – Gertrude Street, Smith Street, Swan Hill, Deniliquin – Uncle Archie springs to mind whenever we move through these areas.
Did you know? When Charcoal Lane – the social enterprise restaurant at 136 Gertrude Street, Fitzroy, which provided training for young Aboriginal and Torres Strait Islander people – closed its doors during the pandemic, the building returned to its original purpose: the Victorian Aboriginal Health Service.
Fun Fact: Tim Finn supplied backing vocals on Uncle Archie's signature song, Took The Children Away. 
#1 Leaps And Bounds – Paul Kelly
"I'm high on the hill/ Lookin' over the bridge/ To the MCG/ And way up on high/ The clock on the silo/ Says 11 degrees" – for those lucky enough to have belted out these opening lines (bonus points for harmonies), at ear-splitting volume, from the Sidney Myer Music Bowl hillside during a Paul Kelly concert with the actual MCG in sight: Aaaaaah! Such joyous community vibes all 'round with these local references (almost) in eyeshot. Cue: an enormous sense of location-specific pride. 
During a previous interview with this scribe ahead of his performance at the 2012 AFL Grand Final, we asked Kelly whether he was eagerly anticipating singing about the MCG from the MCG's actual hallowed turf. "Oh, that's fun, yes," the national treasure enthused, a warm smile spreading across his face. "It's a very old song and I wrote it with my friend Chris Langman when I first moved to Melbourne in '77. We were in a sharehouse together and we played in a band together for a very brief while, and we had started that song.
"For us, it was kind of a song about nothing, really. It was just a song about a feeling; it was an autumn song. And we didn't actually finish it when we first wrote it – we just had a chorus and a melody – and I finished it later on when I actually moved from Hoddle Street up to Punt Road. I was living in a first-floor flat and out my window I could see the Nylex Clock and the MCG, so that's where that lyric came from. It was never really written as a football song, but it's sorta been picked up."
And we receive so many visual cues in those few short lines as well, like watching a gripping short film unfold. This song really is up there riding high amongst Paul Kelly's finest songwriting, hey? Alongside How To Make Gravy, To Her Door, From St Kilda To Kings Cross – hey, that's another contender for this list!