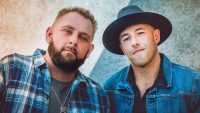 Their Livin' The Dream tour is now underway, which has served as a reminder for The Wolfe Brothers: "gettin' out in the pubs, gettin' sweaty and havin' a great time is what we pride ourselves on and why we do it." We got on the blower with one of the bros, guitarist/vocalist Nick Wolfe, to discuss how these fourth generation berry farmers/musicians started out jamming in fruit pickers huts, their "very, very positive" reality TV experience, becoming besties with Lee Kernaghan, hanging out backstage with Warrant (their all-time fave band) and so much more.
The Wolfe Brothers cheat sheet
Nick Wolfe (guitar/vocals): "We're fourth generation berry farmers/musicians. So our great grandfather was a fiddle player, his son had a thing called The Wolfe Family Orchestra – he played a lotta different instruments, I think saxophone was his main one – and then dad was a drummer in a rock'n'roll band [Midnight Revival]. So we played a little bit in his band as well in the early years – that was pretty cool, kind of like a little apprenticeship into live music. And so I think it was pretty inevitable that we were gonna be doing something in the music field.
"We started [gigging] when we were in high school and we were snuck into our local pub – mum used to drop us off with the gear – and they'd have us play. Some of those nights were pretty educational for kids our age and this is back in the day when smoking was still [allowed] in pubs. So I remember playing with dad in some places and you couldn't even see the people dancing in front of you. And then you'd go home and be like, 'Wow, this is what people do!' [laughs].
"And then from there we got booked on rodeos and B&S balls and things like that. Then we sorta spent the next few years gaining a really loyal following around Tassie, in different pubs and clubs and things like that, until eventually we got on 'Australia's Got Talent' [The Wolfe Brothers placed second in Season 6 of this reality TV talent show, which aired in 2012]. Then that allowed people on the big island to take a bit of notice of us and we've been doing it ever since, so it's very cool."
"Our reality TV experience was very, very positive"
"I think the reason why we were able to make it work was because we'd had so many gigs under the belt. We'd done so many gigs, like, thousands: weddings, pubs, rodeos, whatever – we'd sort of played it all. So when it came to, you know, 'Okay, here you go, you're on a show, there's a full crew, everything's set up for you, you've gotta play for two minutes,' we just thought, 'Well, if we can't nail this, we may as well give up,' you know?
"This is ten years ago or whatever it was and thankfully, out of the four songs we played, they let us play three originals. So to be able to showcase our original songs to a national primetime TV audience was just so valuable. And these days a lotta people who come and watch us, and follow us, don't know we were even on the show. So it's kinda transcended it, which is really cool, but, yeah! Still, our reality TV experience was very, very positive. Because you do hear a lotta horror stories, but, for us, it was great. And we tried not to go with the whole sob story, because we didn't really have a sob story; we were just four blokes [Tom and Nick Wolfe plus their childhood friends/former band members Brodie Rainbird and Casey Kostiuk] trying to play in a band together and make a living out of it, and that was the story. And I think it was maybe a bit refreshing for [viewers] that there wasn't a big struggle; it was just four guys trying to have a go."
"Lee Kernaghan's sittin' in the lounge room workin' on a song!"
"We played on the road with Lee for a decade as his band, and opening for him, so to come from places like playin' [Kernaghan's song] Boys From The Bush at rodeos and things like that and then, you know, after Australia's Got Talent, Lee saw us on the show and then we auditioned to become his band and were signed to the same management. We're very good friends with Lee now and only recently he was down at my place, we were doing some production work, and, yeah! You kinda just go, 'Wow, Lee Kernaghan's sittin' in the lounge room workin' on a song!' [laughs] Even though he is a great mate and we've known him for years now, it is pretty surreal when you step back and look at it."
Jamming in fruit pickers huts
"I typically don't eat fruit ever [laughs]. Tom's running things down there on the berry farm these days. They're getting into more jams and things like that, so that's really cool. That's a lovely part of the world [Neika, near Hobart], and we were very lucky to grow up there. The other great thing, too, is we always had the fruit pickers huts, which doubled as places we could set up in, and jam and rehearse, the ten months of the year we weren't using them for fruit pickers – pretty cool set-up."
"I still play my good old blue Strat"
"Mum and dad didn't force us to play, but it was pretty strongly encouraged. My first guitar wasn't much – dad got it for me. Actually my first real guitar – you know, in inverted commas 'proper' guitar – was a Fender Strat and I got it when I was 18. It was a bit of a combo of me saving up and dad kind of helping out a bit, too. But the fun fact is: I've gone through a lot of guitars through the years – like, more than I can remember – but, to this day, that is the one that I still come back to. I still play my good old blue Strat. I'm sitting here lookin' at it now, in the room. It's just comfortable, you know? It's got a few battle scars and the scratchplate is turning from a brilliant white into a kind of smoke brown – I dunno how that's happened – but, yeah! It feels right, so I always end up comin' back to that one."
Tom's bass: "a tribute to our pop who was in the navy"
"Tom's bass is a similar sort of story, but he actually had a bit of a mural done on it as a tribute to our pop who was in the navy; so it's got an anchor and that sorta stuff. And that's got all its own scars and blemishes and fades, and it's really cool. I think it's good to have instruments that have a bit of character, you can think, 'Oh, that happened this night when someone fell over onto us…' [laughs].
"I do get a bit worried about flying them 'round all the time, but they're definitely more sentimental value than actual monetary value. They're not anything amazing, we just love 'em, you know?"
Writing a song for the veterans
"I really love Hey Brother, which is a song I wrote for veterans and servicemen and women. I think some of the people we've met – and some of the things we've been told, through releasing that song – and the connection that's had has been exceptionally special. A few people have said that song's really helped them when they're in a very dark place and that's amazing, you know? That's kinda what it's all about. We've met some really incredible people through that song."
Shout-out to Kingston High School's "really good music teacher"
"We've always been lucky to have really great, supportive mentors in our life.
At Kingston High School we had a really good music teacher. A lot of guys were into guitar and he'd lend them cool guitar CDs: Stevie Ray Vaughan, Jimi Hendrix, things like that. He was a cool guy, we all really looked up to him and he taught us a lot about music."
First album purchase: Smash Hits 1991
"I can remember the second [album I purchased] was Guns N Roses' Use Your Illusion II, and I say that 'cause it's way cooler. The one I actually bought first was called Smash Hits 1991, one of those compilations. But, in hindsight, there was actually some really cool stuff on it: there was Noiseworks' Hot Chilli Woman; Cherry Pie by one of my favourite bands, Warrant; Daryl Braithwaite's Horses was on there. So, in hindsight, there were a lotta pub standards that we've gone on to end up playing on [Smash Hits 1991]. Yeah, it was a pretty cool snapshot of Australian music and the music of that time."
Hanging out with their all-time fave band Warrant
"Warrant ended up being one of my favourite bands; they're famous for their song Cherry Pie, but the catalogue beyond Cherry Pie is a lot better than that. We actually got to meet those guys when we were playing over in the States. We went and saw 'em and hung out at their show at Chattanooga, so that was a bit of a dream come true for us.
"I'd put up a video of me playing one of their guitar solos on Instagram before, and then our manager – I didn't know this – sent them the video and said, 'Oh, look, these guys are out here from Australia and they love you guys. Is there any chance we could say 'G'day'?' But they didn't tell me. So we drove down to Chattanooga. I was thinking we were gonna drive home after we watched the show, and that was all good. Then they were like, 'Oh, jeez, we better get these tickets,' and our manager said, 'Oh, no, we don't need tickets, we've got these!' and he pulls out these backstage passes for Warrant. And I was like, 'Oh, my God! Okay. Yay!' [laughs]. So, yeah, that was awesome. [Warrant] were really cool. They're still fully-fledged rockstars and it was an amazing show. I've still got the backstage pass at home somewhere, with a signed photo.
How Keith Urban steered them from heavy metal back to country
"Being into guitar, teenage boys often end up playing a bit of heavy metal. We certainly like '80s glam rock stuff and also things like Metallica. But I guess when it came time to write our own songs, we kinda ended up comin' back more to our country roots, eventually. I think Keith Urban was really blowin' up at the time when we started to write our own music and that maybe factored into steering us back to country.
"Mum listened to a lotta country in the early days in the early-'90s boom – Garth Brooks, Billy Ray Cyrus, Lee Kernaghan and things like that – so that was just always on in the house; I think it seeped into the blood. And we're obviously country boys as well, so it's probably pretty natural that the music we'd end up writing would be country with a lot of rock infused [into it]. Being a pub band, we've played a lot of Australian pub rock – you know, all the standards like your Angels and Midnight Oil and AC/DC – so that's a big part of it, too. So it all melds together into what we do, I think."
Golden Guitars on the mantelpiece
"I've got a bit of a mantelpiece. I've got our Golden Guitars on it and different things we've won over the years. So I've got six [Golden Guitars] up there now and I'd like to add a couple more to that tally by the time we're through. They're pretty hard to get so I'll see how we go, but, yeah! It's always nice to walk into the lounge room and see those. Very cool."
Dream sync: 'Yellowstone'
"We've had a couple of really cool [syncing] spots over the years on different sports things and often get pitched, but nothing life-changing like a Netflix series or anything like that. I'd love to get [one of our songs used as] a theme song for a TV series or something like that one day. It would be unreal. 'Yellowstone' would be a bit of a dream come true, for sure. Lainey Wilson was on that show, she's now blown up as well so, yeah! It's cool to watch. A lot of people have been featured on that show."
The 'Nashville' effect
"I've gotta confess I haven't completely watched the whole show, but mum used to be a massive fan of 'Nashville' when she was around. And who's the main guy? I can't think of his name, it starts with 'd' [Deacon Claybourne played by Charles Esten]. Anyway, he was out playing in Australia and we got him to make mum a bit of a video so, yeah! She was pretty stoked with that."
"It's cool that country's getting a bit of a moment"
"Obviously Luke Combs has been out in Australia doin' stadiums, so there's a bit of country fever at the moment and we're hoping that's gonna trickle down to the Australian country music scene. It's cool that country's getting a bit of a moment. I think a lot of the mainstream radio stations in Australia are finally starting to play some country again. But it would be great to see a bit more support for Australian country music on mainstream radio and in the media, you know?
"There was kind of a big boom in the '90s with Kernaghan, James Blundell, Kasey Chambers and that sort of stuff. It would be great to see another era like that for Australian country music, 'cause there really are some great artists out here."
Future country music star: Max Jackson
"We've been touring with a girl by the name of Max Jackson lately and Max is just fantastic – amazing writer, performer. I think she's gonna be very big going forward."
"We like to keep the party going"
"It's crazy to think we've now got six studio albums and a live album. There's so many bloody songs it's hard to get a setlist together! We try to play a mix of stuff off the new album [Livin' The Dream] and our past hits, if you wanna call 'em that, and we just try to accommodate everyone's tastes. Then we like to keep the party going with some of the songs that we used to play growing up in the pubs, and we do a couple of medleys of different stuff we do and just try and make it a great, great fun night for everyone. We love the studio aspect and we love the writing aspect, but actually gettin' out in the pubs, gettin' sweaty and havin' a great time is what we pride ourselves on and why we do it. We love it."