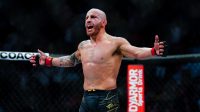 If there is one thing we love the most, it's an Aussie in the Octagon. Particularly an Aussie champ defending their belt (if there's any other Aussie UFC stars reading this, we'd love a few more).
But there is something extra special about Alexander Volkanovski. When he's in the Octagon, sports bars are packed, the cold beer is flowing, and we can't get enough of the Aussie Aussie Aussie chants ringing out around the country.
Before you watch Volkanovski continue his reign in the Octagon (hopefully) at UFC 290, Sunday 9 July in Las Vegas, take a trip down memory lane with us as we count our top five favourite Volkanovski fights of all time (let's be honest, every single one of his fights would be in here if we could include them all).
5. Alex Volkanovski vs Jose Aldo: UFC 237, Sunday 12 May 2019
One of the greatest featherweights of all time, Jose Aldo should go down in the history books as a legend. The first UFC featherweight champ ever, and the pride of Brazil, it was always going to be a hard task for Volkanovski to take down Aldo, in his homeland.
The winner would get a crack at the then-champion, Max Holloway, which added more fire in the belly of Volkanovski. He shut down Aldo in attack and defence, and secured his shot at the fight of his life, on the big stage. A standing ovation for an epic performance, but that might've just been us cheering in our local sports bar.
4. Alex Volkanovski vs Yusuke Kasuya: UFC Fight Night 101, Sunday 27 November 2016
It'd be a hard ask not to include the famous UFC debut in this list. It might not be the greatest, or most skilled bout, but it was the fight that saw Alex Volkanovski officially enter the UFC as a professional fighter.
Fighting his way through to the TKO stoppage at the two minute mark of the second round, Volkanovski marked his entrance to the featherweight division with a bang. We knew from the first fight (says every UFC fan ever), but an Aussie superstar was on the rise.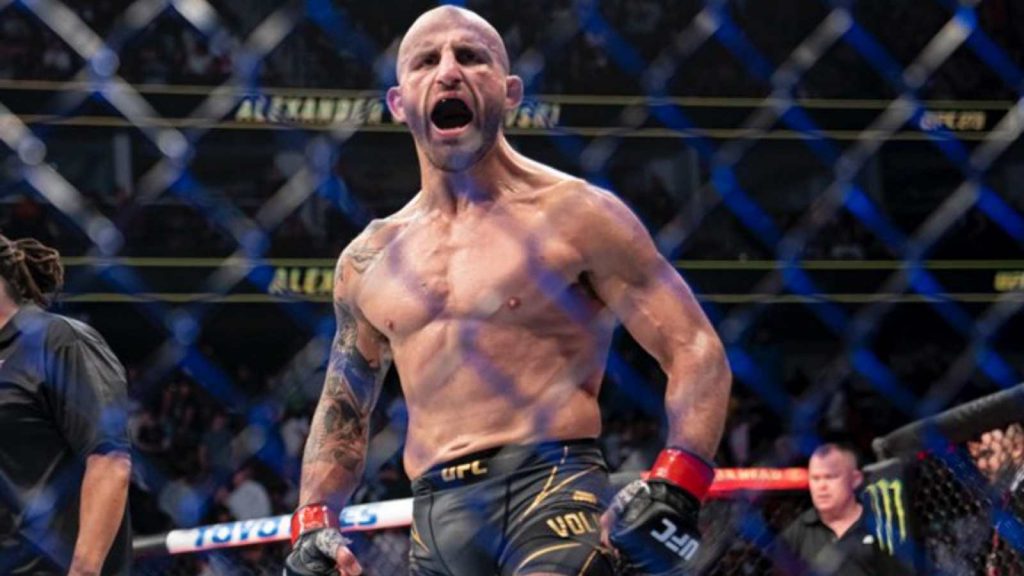 3. Alex Volkanovski vs Chad Mendes: UFC 232, Sunday 30 December 2018
One of the most important fights in Volkanovski's career, this battle between Volkanovski and Chad Mendes was a buffet of everything UFC fans could ever want. Two fighters of a similar style and goal, trying to build their name off each other's back.
It was always going to be a battle, and the fight lived up to the hype. The two threw punches, kicks and take down attempts at each other for as long as they could, with Volkanovski dealt the most adversity in the Octagon he'd had to deal with so far in his career. Copping more than a few on the chin, Volkanovski worked his way through precarious situations multiple times throughout the fight, and eventually, his powerful shots landed.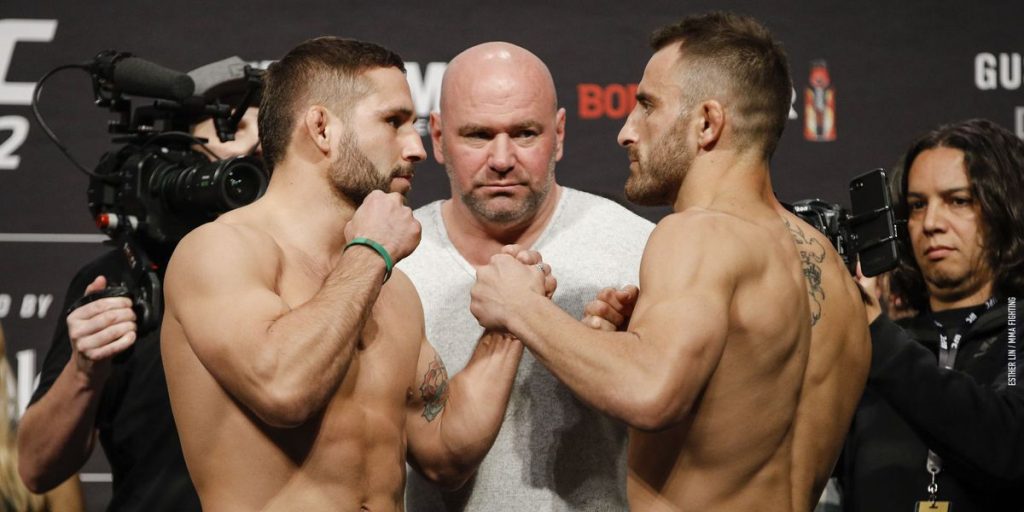 2. Alex Volkanovski vs Max Holloway 1: UFC 245: Sunday 14 December 2019
The challenge was set, take out Max Holloway, the featherweight title is yours. That was the task presented for Alex Volkanovski ahead of UFC 245. Reigning champion, and arguably the best featherweight to ever fight, Max Holloway, was estimated to be the champ for a long time… enter, Volkanovski.
With Holloway not expecting the full range of tricks and strategy that Volkanovski was bringing to the show, the leg kicks compromised the striking ability and movement of Holloway completely, resulting in the Aussie, becoming the champ.
We remember where we were the first time our Aussie became a title holder, do you?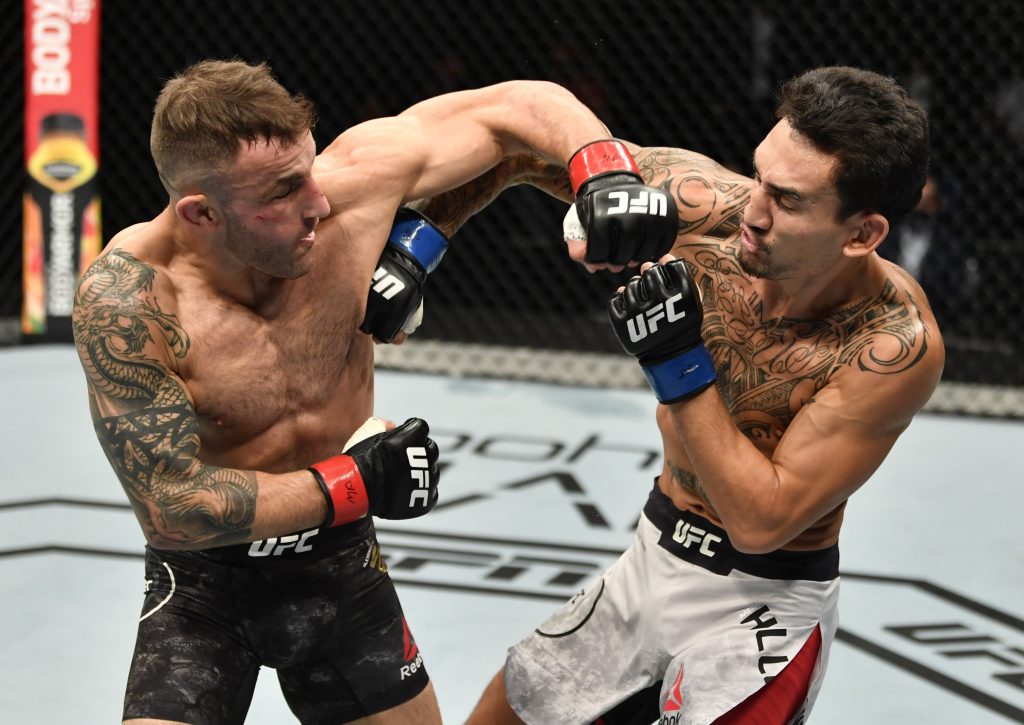 1. Alex Volkanovski vs Brian Ortega: UFC 266, 25 September 2021
We've arrived at the best fight of Alex Volkanovski's career. But don't take it from us (even though we picked this list ourselves), this is one of the best fights in UFC history, according to fans across the globe.
The build up to this one might have had a little to do with it, both fighters were scheduled to fight in early 2021, but circumstances forced the two to reschedule. Then, both fighters were named as opposing coaches on THe Ultimate Fighter, to our delight it meant we watched a fire ignite and burn between the two all season as they taunted and threatened one another over the two sides of the Octagon.
Once they were in the Octagon together, all-out war ensued. It became quickly apparent that this wouldn't be an easy win for either, with Ortega proving to be a big problem for our Aussie, especially in the third round. This one would go down as one of the best the MMA world had ever seen.
A deep choke hold was locked, and Volkanovski looked all but done, with many waiting for the tap out from the champ. But the tap never came, Volkanovski defied all odds and escaped, coming back with defining punches all the way through to the end of the fifth round. A fight that will go down in history, and put Alex Volkanovski into legend status.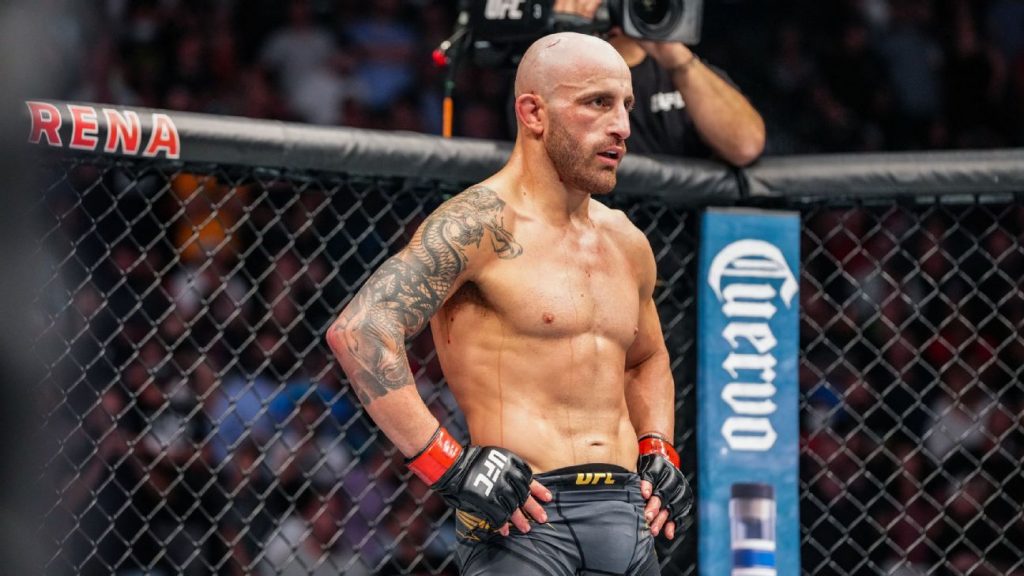 What's happening at UFC 290?
Volkanovski is back in action, defending his featherweight title against challenger Yair Rodriguez. Taking place Sunday 9 July at T-Mobile Arena in Las Vegas, the two will go head-to-head in front of a packed crowd.
Supported by a flyweight title fight, Brandon Moreno defends his belt against Alexandre Pantoja. While fellow Aussie, Robert Whittaker takes on Dricus Du Plessis in the middleweight category in a must win bout, the winner in with a shot at the title.
You know where to find us, crammed into our local pub, watching our Aussie champion go to work. If you need some inspiration, take a look at our top pick of pubs to watch right here.
Where can I watch UFC 290 near me? Find your Official Home of UFC location right here.
Find out what other UFC fights are coming up here.